Andrew McLean May
The Early Years
Little is known of Andrew McLean May's  early life. His birth is recorded in the 1891 census for Scotland and place of birth is Kirkintilloch, a small town roughly  eight miles Northeast of Glasgow, Here there is an old Roman Fort on the Antonine Wall dating to the 2nd century and artefacts from here are displayed in the Hunterian Museum in Glasgow. Perhaps this  inspired his later interest in archaeology.
Family Background
People are often defined by birth, siblings, family, education as well as achievement. It was following a chance conversation with Dr.John Johnston from Ballymoney that more about Andrew McL. May began to emerge. This was of particular interest for the Mountsandel Discovery and Heritage Group as Andrew made many of the early discoveries there.
Andrew had married Grace Gordon Martindale and had one son Laurence, Who married Isobel Johnston at Dunboe Church in 1951. Their only child died  at birth.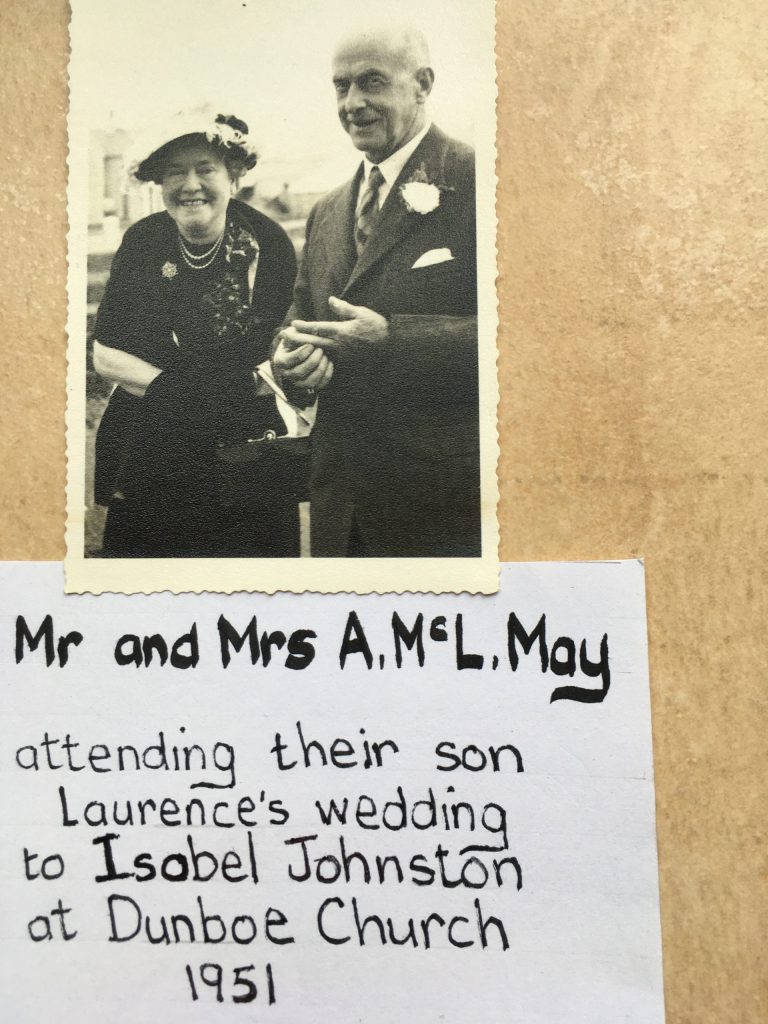 Characteristics of the Man
A picture emerges of him as cross between Sherlock Holmes and Bear Grylls, a very fit backwoods man with an insatiable curiosity and an unforgettable style. Driving a convertible with sports gear always to hand, he wore autumn coloured tweed plus fours matching his nut brown tan. His strong Scottish brogue and his energy would have created a physical presence in any company, even among the County Londonderry farmers not easily impressed.
Career
Andrew began his career at the Botanical Gardens in Edinburgh where he came to be in charge of the tropical house there. In 1914 he came to Ireland to work for the Department of Agriculture, specializing in horticulture. He moved to Northern Ireland in 1922 aged 41 and joined the newly established Department of Agriculture as a lecturer and advisor for horticulture and beekeeping.
He worked across the country from his base in Coleraine taking classes  and advising on cropping developments and land management. Being out and about in the countryside he had opportunity to explore remnants from the past found in hills, caves, farms and unearthed by ploughing, building work and dredgings.
Archaeological Interests
May will be best remembered for recognising the importance of Mountsandel as an early Mesolithic site and this lead to the later excavations by Peter Woodman and Mike Bailey of the Mountsandel site. These early discoveries by May are widely accredited in journal articles and books written by Professor Peter Woodman  and led to further exploration by A.E.P.Collins. Peter Woodman's subsequent excavations are now widely documented as the beginning of Ireland's human history. Even today he remains respected for his pioneering work in both archaeology and agriculture.
A visit to Beaghmore Stone Circles shows his name there on the public signage. His name is also celebrated at Whitepark Bay signage for his findings at Portbraddan Cave. His papers and publications cover excavations and finds around the countryside, river and dunes in which he lived and worked and also made him a highly respected in provincial and in national professional circles.
As a measure of the respect in which he was held in the archaeological community he became the first honorary member of the Ulster Archaeological Society in 1969 in recognition of his services to archaeology in the Province.
Other notable contributions are to the Co Londonderry section of the first Preliminary Survey of Ancient Monuments of Northern Ireland and a member of the Northern Ireland Ancient Monuments Advisory Council from its inception in 1937.
The May collection of artefacts remains in the Ulster Museum.
Notable Excavations
Click here to read a brief summary of May's work as an archaeologist
Beaghmore Stone Circles
Beaghmore Stone Circles, in an area once remarkable for its birch trees, first came to the attention of Andrew May in 1945 when he was reporting on a site nearby in the eastern foothills of the Sperrin Mountains, for the Archaeological  Survey.
A  local guide, George Barnett, showed May around numerous sites in the area including the Bog of Beaghmore 12 miles from Cookstown, where turf cutters had partly uncovered these stone structures.  Locals would claim that Barnett was responsible for finding and exploring these stones, but he does pay tribute to May in one of his poems about the area. https://georgebarnett.org.uk/1965/04/10/the-beaghmore-stone-circles/
Funding from the Ministry of Finance and the Ulster Journal of Archaeology Excavation Fund allowed May to explore the site until 1949 when the property came under State Care Historic Monuments. A letter from May to Barnett September 1961 sets this out clearly.
The visible standing stones number 1269, cover several acres and are described by May as groups of low stone circles and rows or avenues. Hearths and deposits of flint tools were discovered and have been carbon dated to 2900-2600BC relating to early Bronze Age Megalithic features. Full details of the site can be found in the paper published by May, A. McL  and Mitchell, G.F (1953) http://www.jstor.org/stable/25510874
Reference
May, A. McL., and G. F. Mitchell. "Neolithic Habitation Site, Stone Circles and Alignments at Beaghmore, Co. Tyrone." The Journal of the Royal Society of Antiquaries of Ireland, vol. 83, no. 2, Royal Society of Antiquaries of Ireland, 1953, pp. 174–97, http://www.jstor.org/stable/25510874
Port Braddon Cave
According to his family Andrew May was a frequent visitor to Port Braddon, often found picnicking with family members in the area on a Sunday afternoon. His initial exploration of the cave began in 1931 and a more in-depth excavation followed up during the Christmas holidays of 1935 and continued intermittently until summer 1939.
Portbraddon  known as ' the port of the Salmon' has numerous caves in the area, especially in the limestone cliffs. The cave excavated is a relict sea cave situated in a half moon shaped bay in a basalt cliff west of White Park Bay.
It is difficult to access the cave today as the land has been subject to much change as a result of weathering. The cave is now found about 16 feet above sea level and 126 feet from it. Boulders and soil blocked the entrance to the cave so labour was needed to clear the entrance and the chamber itself.
There was evidence of small fires throughout the cave, animal and fish remains – mostly limpets. These were curiously arranged in conical heaps shell inside shell as if someone had amused himself arranging them in little towers.
Classification for the deposits inside the cave showed Mesolithic characteristics, including fire stones, bones made into tools, combs, needles pins, and pottery. Analysis of the bones by Dr J Wilfrid Jackson reported that these bones were from birds, deer, fish, horse, ox, sheep and pig. Most common were ox bones – similar to a small breed of cattle found in Roman Britain. May also found partial remains of three human female bones. One a girl of 16, one a young woman of 20 and an older woman. These were examined by Professor Thomas Walmsley at Queen's University Belfast, who noted that "most of the bones have primitive features which are not likely found together in post-medieval time; and there are some characteristics which suggest an epi-palaeolithic inheritance.
References
Originally published: May, Andrew McLean (1943). "Portbraddan Cave, County Antrim". Ulster Journal of Archaeology. 3. VI: 39–61. htpps://www.jstor.org/stable/20566426
McL May I .N . J May 1934 page 56
Dr J Wilfrid Jackson I.N.J Vol iv No 12 page 30
For more information on Andrew May, explore the following links:
Other Andrew May excavations: