Who do you think you are? Speaking of identity…
25th August 2020

Who do you think you are? The advantages of a geographic DNA project.
26th August 2020
Who do you think you are?
Migration and identity in Rathlin, Ballycastle and the Glens
When we embarked on the Who do you think you are? programme, we suspected that proverbial skeletons in metaphoric closets may come to light. During planning meetings we noted that unearthing family secrets might be troubling for some participants, and we flagged it as a possibility with our volunteers before they committed to the programme. What never crossed my mind, however, was what I'd discover about my own family. My name is Nic Wright, I am the Museum Services' lead officer for the programme, and this is the story of how DNA testing and genealogical research uncovered the skeleton in my family closet.
The mysterious origins of a respectable family
I have always had an interest in family history. I live and work here in Northern Ireland, but I was born and grew up in Australia. Like many colonials, I had a lingering desire to know where my people came from – hints and signposts to help create an identity.
Over the course of the last 15 years or so, I have – slowly – been putting together an ancestry tree; just noting parents, but not siblings. It is something that I'm quite content with and – until recently – it included every great-great grandparent bar one, and followed several lines of decent back to the turn of the 17th century.

The frustration I felt, however, was that the great-great grandparent I was missing, was my great-great grandfather on my father's side, the Wright lineage. The family who gave me my surname.
My grandfather's name was Colin Eaton Wright, born in Western Australian in 1917. His father as John Eaton Wright, known as Jack. Jack was also born in Western Australia, in 1886. All the Wrights were eminently respectable folk, working for the railways, or as pilots, and serving their country when war loomed.

The photo above shows Jack (left) and Colin (right) holding my dad, Graeme in 1948. As an aside, the photo on the right has been digitally colourised by one of the tools on the MyHeritage website. I'm not sure how scientific the colourisation process is, but it looks neat!

The only evidence for Jack's father's name that I could lay my hands on was Jack's marriage certificate (above). His parents are listed as John Wright and Beatrice Packwood. Beatrice was easy enough to trace, and it is from her family that the hereditary middle name, Eaton, came through to the Wrights (used now over four generations). However, that left me chasing a John Wright (not an uncommon name), with an uncertain date and place of birth.
Only my uncle could recall any vague family stories about John Wright. He was thought to have come from Ireland, or Scotland, or from Cumbria in England. The story followed that he was a ship's captain, or perhaps a stowaway.
Both John Wright and Jack appeared in the 1910 voter register for Western Australia, but only Jack was listed in 1916. A death notice in the Western Mail newspaper confirmed John Wright's death in February 1915 and it appears that the widowed Beatrice married Charles Barnes in 1916. My father recalls meeting her when he was very young; despite being his great grandmother, he recalls that she was known to the family as Mrs Barnes.
I attempted to find a marriage certificate of John Wright and Beatrice Packwood in both English and Australian records but came up empty handed. Trying my luck by searching for John Wright on any of the genealogical research websites, estimating a date of birth in 1850 +/- 10 years returned almost 90,000 results… Unless some sort of new evidence turned up, I had reached a brick wall.
In 2017, I provided a DNA sample to AncestryDNA for testing. The results were interesting in themselves, but revealed little regarding the Wright family. Indeed, there were very few relatives with any visible connection to a Wright family at all.
The plot thickens
It wasn't until November 2019 – during the delivery of the first part of the Who do you think you are? programme – that I received a message from Heather, a 4th-6th cousin whom I'd never met. She was trying to establish how we were related and mentioned seeing a reference to a Victorian marriage certificate for a Beatrice Packwood and John Wright Railton dated to 1884.
Heather noted that "There might be an error and the place was Railton Victoria. There was an area there with that name. There is a NZ person by the name John Wright Railton and this may confuse the issue or there might be some explanation for the name change. The marriage date fits in with the birth date of John Eaton Wright."
At first I did nothing but, after one of our Who do you think you are? workshops, I discussed the issue with Martin McDowell at the North of Ireland Family Historical Society. With his encouragement, I decided to follow up on the strange lead and order a copy of the certificate in question.

After several long weeks, the marriage certificate duly arrived. There, indeed, was Beatrice Packwood, listed with her parents – whom I had already traced, marrying a man named John Wright Railton. On this document, Wright was a middle name rather than a surname, but otherwise, the data seemed to tie in well with what I already knew.
It was only at this stage that a renewed search turned up Jack's birth certificate…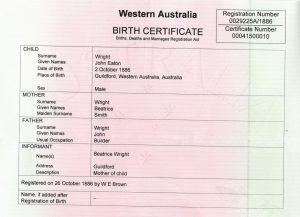 On the birth certificate (above), you can see that Jack's father is John Wright (not Railton). Jack's mother, who should be Beatrice Packwood, is listed as Beatrice Smith. Smith was Beatrice's mother's maiden name. Why would Jack's parents be registered as John Wright Railton and Beatrice Packwood in 1884, but John Wright and Beatrice Smith two years later in 1886? At some point between 1884 and 1886, they also relocated over 2,000 miles from Melbourne, Victoria, to Guildford, Western Australia. Something fishy was going on.
The investigation now moved from trying to find details on the vaguely named John Wright, to the much more distinctively named John Wright Railton. I could find records for three people by that name. One, born in 1837, and two of his sons, one born 1866 (died 1872) and a second born 1873. All were born in Whitehaven, Cumbria. Here was a tie in to one of my uncle's stories – that the family came from Cumbria.
Neither of the younger John Wright Railtons were suitable matches for Jack's father. One died at the age of 6, and the other was only 13 years old when Jack was born in 1886. That only left John Wright Railton senior as a suitable match. His parents were John Railton, from Whitehaven, and Catherine Wright from Hull. It was obviously from Catherine's family that John Wright Railton received his middle name.

The mother of the younger John Wright Railtons was Margaret Railton nee Brocklebank. She married John Wright Railton in Liverpool in 1865 (see the certificate above) and later appears in the 1871 census living in Whitehaven.

John Wright Railton's profession on his 1864 marriage certificate is listed as 'shipwright'. He appears in the 1851 census as a shipwright's apprentice, along with his father, John Railton, also a shipwright. In the document above, John Wright Railton is listed as the ship's carpenter on the clipper Moneta, sailing from London to Sydney in 1863. John Wright Railton does not appear in the English censuses of 1861, 1871 or 1881 and it may be that he was at sea at the time. This linked again (although rather loosely) with my uncle's story that John Wright was a ship's captain or a stowaway.
What's in a name?
Margaret Railton (nee Brocklebank) appears to be the key to John Wright Railton's name change between 1884 and 1886. John and Margaret had at least four children (the first two out of wedlock): Andrew Wright Railton (named for his maternal grandfather) born 1857, Catherine Railton (named for her paternal grandmother) born 1862, John Wright Railton born 1866, died January 1872, and John Wright Railton born October 1873.
In 1896, Margaret Railton and her youngest son, John Wright Railton emigrated to New Zealand. She was around 61 years old and he was 23. Both appear in the 1896 and 1900 New Zealand electoral rolls where Margaret is listed as a widow. She died in Invercargil, New Zealand in 1901.
Therefore, when John Wright Railton married Beatrice Packwood in Melbourne, Australia, in 1884, his first wife Margaret was still very much alive and living with the Railton family in Cumbria. There is no evidence of the formal divorce of his first wedding, and Margaret's assumed status of a widow from 1896 – while John still lived – all points to the fact that John Wright Railton was a bigamist.


John Wright Railton's signatures on the two marriage certificates, one in 1865, and the other in 1884, shows a similar clear hand. The capital J in John is the same, and the lowercase letters are very similar, even if the other capitals have much less of a flourish in 1884.
So in summary, John Wright Railton was born in Whitehaven in 1837, and died in Western Australia in 1915. He was a shipwright and a ships' carpenter before settling in Australia, after which his profession is listed as a builder (even as late as 1910). Adding to the mysteries, on the marriage certificate of his son, Jack, 11 months after John's death, John's profession is listed as a railway inspector.
In 1865, John Wright Railton married Margaret Brocklebank. They had at least four children. Margaret emigrated to New Zealand in 1896 claiming to be a widow and died in 1901.
In 1884, John Wright Railton bigamously married my great-great grandmother, Beatrice Packwood, in Melbourne, Australia. They had two children, my great grandfather Jack in 1886, and his sister Daisy in 1893.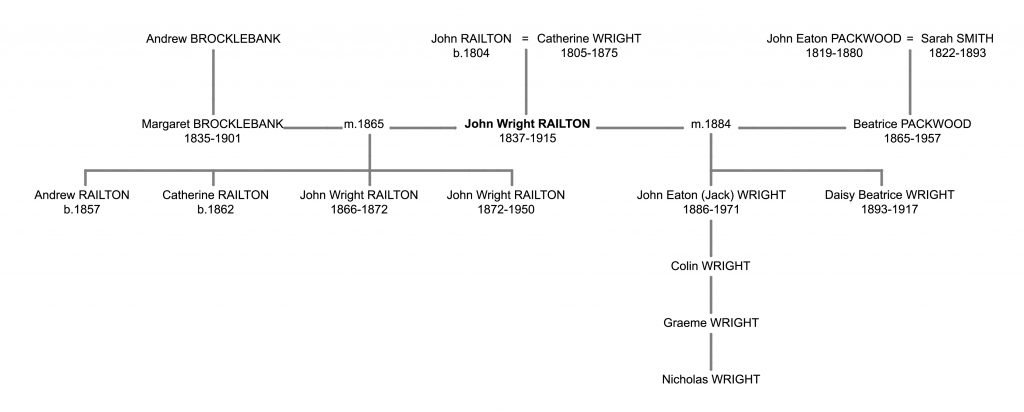 John Wright Railton and Beatrice Packwood both used their real names on their marriage certificate in 1884. However, on Jack's birth certificate two years later, John gives his surname as Wright (his mother's maiden name), and Beatrice appears as Smith (her mother's maiden name). The reason I had trouble finding links to the Wright family was because my great-great grandfather, Jack, was the first of my patrilineal line to be christened as a Wright.
John Wright Railton was a bigamist and we must presume that, as Beatrice provided a false name on Jack's birth certificate, she knew about it. Sometime between August 1884 and October 1886, the couple also moved over 2,000 miles away from Victoria to establish a new life for themselves in a different Australian colony.
There are many parts of this story we may never know: How much did Margaret know? Did she believe she was a widow, or was it easier to pretend to be so? Was her relationship with John – away at sea for months at a time – a happy one, or was she secretly relieved when he didn't return from his last voyage? Did John and Beatrice leave Victoria for Western Australia because their bigamous marriage was discovered, or to make sure that it was not? What, if anything, did the respective children ever know? Certainly, if Jack ever knew, he never let on to his own family.
And where does that leave my family name? It turns out my patrilineal line have only been Wrights since 1886, less than 100 years before I was born. Genetically our Y chromosomes carry Railton genes, and searching through the hundreds of cousins thrown up by DNA testing has shown multiple Railton links where there were so few Wrights. But what's in a name? At the end of the day, Wright is legally my surname, as it is my son's, brother's, father's, and was my grandfathers, and even Jack's. It is the surname willingly adopted by all of our (arguably long-suffering) wives. That is how I identify, with all of the family traits, foibles and … lets call them quirks. Railton or Wright? At the end of the day it doesn't really change anything about who I am, but it sure has been interesting finding out!
We hope that the Who do you think you are? programme will bring to light all manner of fascinating stories. If you've something you'd like to share, please get in touch!
Find out more about this project by clicking on the links below
For more information, or to get involved with this or future projects, contact Museum Services at cms@causewaycoastandglens.gov.uk