"To make boys more skilled with their hands and more accurate in their observations and so to fit them to better their position… and above all to help to stem the tide of emigration that is fast depopulating our land"
Written by Mrs Frances Riddell, a Belfast philanthropist, for a new toy-making industry and shop she was setting up in Ballycastle.
Across Europe the Arts and crafts revival was in full swing. In Ireland activity centred on Dublin, with workshop enterprises based in rural communities for crafts such as carpet making and toy-making.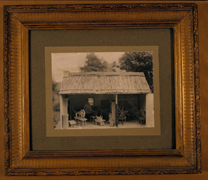 A leading proponent of the revival of Irish folk arts was F. J Bigger. His associations with Roger Casement and R.G. Welch encouraged interest in the Ballycastle workshop.  Bigger donated much material to the shop and as a leading organiser of the first Feis na nGleann in 1904, he recorded the procession.
As instructor, Mrs Riddell brought in the famous Bavarian wood-carver Anton Lang.  In 1910 his place was taken by Stephen Clarke of Murlough Bay. Miss O'Shea taught the lace making. Leading artists associated with the Arts and Crafts movement contributed works for sale in the shop – Vinycombe, Carey, Praegar, Welch and F. J Bigger.  Miss Barbara MacDonnell (first president of Feis na nGleann) had founded a similar project in Cushendall, and both workshops submitted works to the agricultural industry exhibitions in Dublin.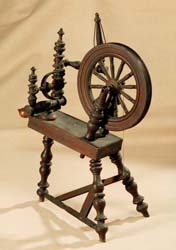 International recognition came for the Ballycastle Workshop at the St Louis exhibition of 1904. President William McKinlay of the United States has been assassinated in 1901 and an exhibition in his honour was held at the 1904 Exhibition.  J.W. Carey was commissioned to paint three watercolours of Francis McKinlay, an ancestor of William McKinlay who was hung in Coleraine for his involvement in the United Irish Rebellion 1798. The frames for the paintings were made by the Irish Home Industries workshop and a model cottage and toys were also sent to the exhibition. The paintings are now also part of Ballycastle Museum's collections.
By the start of the WWI the toy workshop was closed – but the Irish Home Industries shop continued. Their premises today, now much remodelled, are occupied by Wysner's Butchers. The proprietor Miss B. Kelly and her sister (nieces of Stephen Clarke the instructor) made efforts to build up a more permanent collection of artefacts. When the sisters retired in 1982, the shop contents were rescued by the efforts of Cahal Dallat and others and donated to Council.
It was the recording and representing the traditional folkways that gave the subject matter for the toy industry.  They produced exquisite miniatures of farm implements and utensils as well as furnishings from the home.  The Earl of Antrim bought one of the doll's houses for his family. Items from the shop are also held by Ulster Folk & Transport Museum and the National Museum in Dublin.