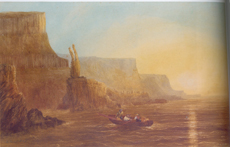 Ballycastle Museum cares for a prestigious art collection including examples from some of Ireland's best known artists and featuring many striking scenes of the Causeway Coast.
Andrew Nicholl (1804-1886)
Belfast born Andrew Nicholl started his career as apprentice to the Belfast printer F.D Finlay, founder of the Northern Whig newspaper. But Nicholl's real passion was for drawing and painting. He completed a series of watercolours of the Antrim Coast before he left Ireland to work in London in 1830.  Two years later he had moved to Dublin, and was exhibiting in the Royal Hibernian Academy, of which he became a member in 1860.
In 1830 he published a series of lithographs entitled The Northern Coast of Ireland and contributed landscape drawings for the Dublin Penny Journal. In 1840 Nicholl returned to London and exhibited at the Royal Academy. After a tour of Ceylon with his friend, Sir James Emerson Tennent, he returned to Europe to practice and teach landscape drawing in London, Dublin and Belfast.
J.W Carey (1859-1937)
Born in Kilwarlin, Co Down, Joseph W Carey spent the early days of his career training at the renowned publishers Marcus Ward & Co., Belfast. At the turn of the century he went into partnership with his own brother John and Richard Thomson. Highly regarded, together they specialised in illuminated addresses, presentation albums and bookplates. Some of their most impressive work included Joseph's landscapes and seascapes including watercolours of the Causeway Coast and other local landmarks. Carey was a founding -member of the Belfast Ramblers Sketching Club and the Belfast Art Society; he was later elected to the Ulster Academy of Arts.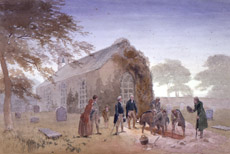 The Ballycastle Museum collection includes three watercolours commissioned in 1904 for the St. Louis Fair, Missouri. They depict the life and death of Francis McKinley – a United Irishman from Conagher near Ballymoney, and ancestor of William McKinley, 25th President of the United States.
John Nixon (1750-1818)
John Nixon is thought to have been born in Belfast but moved to London in 1784 and exhibited frequently at the Royal Academy there. He visited Ireland on several occasions during the 1780s and 90s and produced a series of drawings including one of Dunluce Castle published in Volume II of Antiquities of Ireland. His drawings were also produced in the Copper Plate Magazine (1792-1802).
John P. Campbell (1883-1962)
John Campbell, a black and white decorative painter was born in Belfast in 1883. Under the name of Seaghan MacCathmhaoil, he produced illustrations of ancient Celtic folklore. He was a founder of the Ulster Literary Theatre, for which he designed costumes, and of the highly acclaimed Ulad periodical magazine. Friends with FJ Bigger, Campbell and his poet brother Joseph (Seosamh MacCathmhaoil), were nvolved in the planning and preparation of the first Feis na nGleann in Cushendall. Campbell designed the Feis banners for the Nine Glens of which the Taise Banner in Ballycastle Museum is the only known survivor.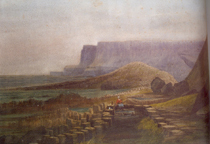 Charles McAuley (1910-2000)
Charles Joseph McAuley chronicled the lives of the people of his beloved Glens of Antrim for over 70 years. He produced a tremendous amount of paintings throughout his career and was heralded as one of Ireland's foremost artists.   McAuley produced excellent depictions of local nature. Rivers, glens, mountains, seascapes and rural village lives have been painted in oils, watercolour and ink.  Ballycastle Museum was bequeathed a significant collection of his works by Margaret McSparran.