The Cows come back home to Coleraine Market Yard!! – the creative youth partnership project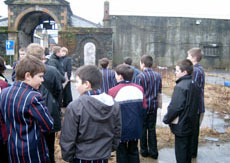 On Wednesday 12th March a striking showcasing of artworks created for the Market Yard was launched in Coleraine Town Hall. The regeneration of the Market Yard by Coleraine Borough Council is currently at the planning stage and the artworks will be showcased on the site temporarily until the new museum and other facilities are built.
Artist Matt Pothecary worked with Garvagh High and North Coast Integrated College to create fused glass panels.  Eleanor Wheeler worked with Coleraine High and Coleraine Academical Institution to create large scale ceramic slabs depicting life in the 19th Century when the Market Yard was built. Louise McClean created life size farmyard animals sculpted from willow with the group from Ballysally.
The Causeway Museum Service Officer, Helen Perry commented 'This has been a fantastic opportunity for young people from our Borough to engage with the history of the Market Yard, the resulting artworks are very inspiring and we are delighted to showcase them at the Market Yard Site'.
The project was a partnership between Causeway Museum Service and Creative Youth Partnership supported by the Department of Education, the Department of Culture, Arts and Leisure, the Arts Council, the North Eastern Education and Library Board and Coleraine Borough Council.