Bob Morris – Modern Monarchy
4th February 2022

Cormac McSparron – Royal Sites of the North Coast
11th February 2022
Causeway Coast and Glens Heritage Trust (CCGHT) are working in partnership with Causeway Coast and Glens Borough Council Museum Services to deliver the Uncharted Histories of the Causeway Coast project.
This project will gather lesser known histories along the Causeway Coast, creating digital resources and delivering free events and activities for the local community. Get involved, share your local knowledge and help enrich our understanding of the Causeway Coast, past and present.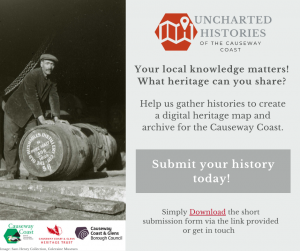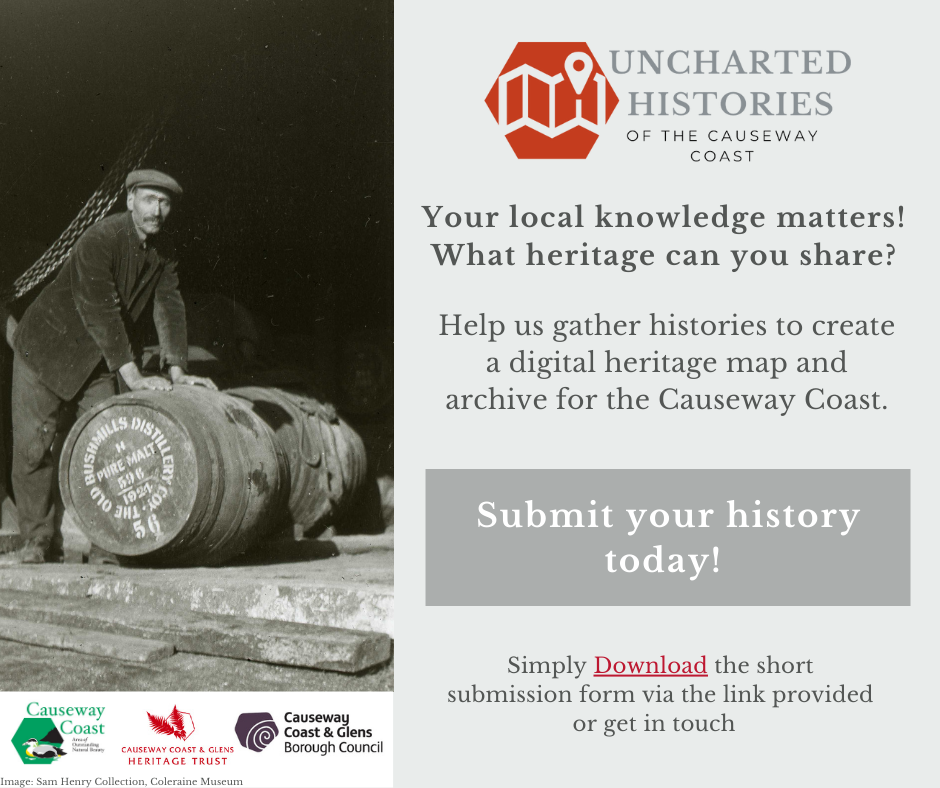 Submit Your History Today!
We will be mapping histories gathered from the local community, to create a digital heritage map and digital collection on the Northern Ireland Community Archive. You can easily submit your history online.  Simply fill out this FORM and email any images or supporting material you wish to share to unchartedhistoriescauseway@gmail.com. Form can also be downloaded

HERE

and submitted via email or in hard copy.
Get Involved!
Working with Quarto Collective, the project seeks to engage with local groups directly.  If you are an interested heritage or community group please contact us to arrange a chat.   We will also be delivering a series of free creative workshops and training sessions in the coming months – Event details will be confirmed in due course.
Keep an eye on CCGHT's Eventbrite page and social media for more information on upcoming events – or simply contact us to be placed on the project mailing list.
Contact Us
Email unchartedhistoriescauseway@gmail.com to submit your history or to request more information on the project.
You can also like/follow the Uncharted Histories Project Facebook page.
Note: we would be happy to present on Uncharted Histories to interested local groups – just contact us to arrange.