There have been many important archaeological finds in the region and Ballymoney Museum is fortunate to hold some of them in its permanent collection. It includes rare exhibits associated with the political upheaval of the late 18th century and the United Irish Rebellion. The museum also holds a unique collection of artefacts and memorabilia associated with Irish Motor Cycle Road Racing.
The collection is now on display at the newly built museum which was opened in 2005 at the renovated Town Hall, in Townhead Street.  The new venue is easy to find by following the road signs and there is free car parking opposite the building.
Origins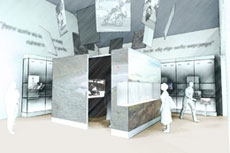 Ballymoney museum is celebrating its 150th anniversary this year!
The original museum was derived from the collection of local antiquities belonging to James Bell, a land agent to the Leslie family of Leslie Hill near the town of Ballymoney. Local solicitor and magistrate James Cramsie purchased the collection after the death of James Bell. He then passed the collection into the care of the Town Commissioners.
When the New Town Hall opened in August 1866 the museum was located in the Commissioners' room (council chamber). This is now the Cramsie room.
The recent renovations, were instigated by the need to have a suitable arts and heritage venue. By the 1970's, the museum collection had been put into storage. As plans progressed on the new museum and arts centre, Ballymoney Borough Council leased 33 Charlotte Street, to house the collection temporarily until the new complex was completed. The building was known as Ballymoney Heritage Centre. In the intervening thirteen years, the museum flourished and the collection expanded.
New Developments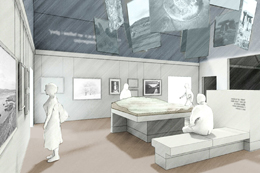 In October 2007, the museum was the successful recipient of a grant of £288,500 from the Heritage Lottery Fund (HLF) to pay for refurbishments at the museum. The Heritage Lottery Fund contribution covered 75% of the total costs for the project, the remainder came from Ballymoney Borough Council, the museum's governing body.
Haley Sharpe Design, created the new permanent displays which tell the history of the Borough, along with a section on motorcycle road racing.  To complement the permanent exhibition, Ballymoney Museum continuing its programme of displays in the temporary exhibition gallery and this area has also been improved with modern cabinets and fittings to show the exhibits in the best possible setting.
In recent years, the museum has become a focus for visiting researchers that are interested in local history or tracing their family.  To facilitate these inquiries, a new public information area now provides resources for genealogists, students or local people that are curious about the story of this historic region.