In April 2007, Ballymoney Museum worked with the North Antrim Agricultural Association to produce a colourful exhibition celebrating their 100th Ballymoney Show.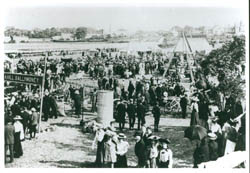 The Association was founded in 1903 and staged their first show the same year. The Show was closed down during World War Two, but was later revived by the three Young Farmers Clubs in the area – Finvoy, Kilraughts and Moycraig.
In the exhibition, visitors were able to explore the fascinating history of the Ballymoney Show and why it continues to be such a successful event. From the days of the horse- drawn plough, to modernization and the future of rural development, the memorabilia on display covered the long life span of the Show. This included numerous photographs, vintage posters, footage of previous Ballymoney Shows, filmed by John Thompson and an attractive selection of prizewinning Home Industries craftwork. Also on display was an early 20th century chill plough, on loan from Leslie Hill Open Farm.