---
The Asia over 50s Club is a well-known and well-established community group which is based in the area of Coleraine. "We started in 2007 and our first meeting was in May 2008. The reason behind the formation of an Asian Over 50s Club was to get people who were living alone out of their houses and back into contact with each other."
Satish asserts that "the Asia Over 50s Club is the best thing that happened in my life. I lost my husband around 9 years ago and I was very depressed and very lonely. Coming out of the house, meeting people, discussing your problems. That was the start of a change in my life."
"Our senior citizens were getting very lonely, very isolated, they didn't get out much so we decided that we would form a club that would bring the senior citizens out. We have around 40 members, they don't always come all the time, but between 20 and 30 of them always attend the meetings." Press play to listen.
---
Networking
"Since we started we have got some funding through the Peace III programme, which meant that integration was one of the main focus points. So we have met with several other groups in the area. Unanimously, we love meeting with other community groups. It gives people a feeling of involvement." Press play to listen.
"The Asia over 50s Club is well established and well known all over Northern Ireland. We also have charity status. Our relationships with Coleraine Borough Council and other organisations are well established. We celebrate some traditional Indian festivals, like the Festival of Lights, with different community groups and we're very pleased to see it being successful." Press play to listen.
---
Trips
"We went on a trip to the Ulster American Folk Park and learned there that the Northern Irish immigrants in America went through a similar experience as ourselves, Indian immigrants. It was quite eye-opening – the conditions were very bad for the travellers. Our club really appreciated it. The other trip that was funded by Peace III Cultural Connections went to Armagh. We wanted to show our members where Christianity started in Northern Ireland and Ireland as a whole. It was really nice to go to 'St. Patricks Country' and see the Church of Ireland and Roman Catholic Cathedrals." Press play to listen.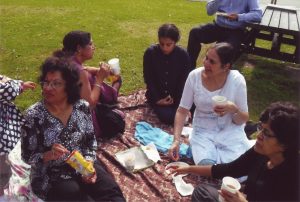 Naresh tells us: "Where people were just sitting in their houses before, we now encourage face to face contact by meeting every fortnight, with members coming from all kinds of places. People from Belfast would like to join as well, we hope it will keep on being as successful as it is now." Press play to listen.
.