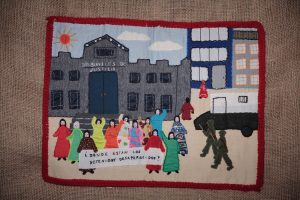 Remembering the Troubles was originally planned as the development of an archive of local memory recordings and images triggered through a series of textile based workshops.  Our experience with other projects had taught us that "tasters" to allow potential contributors to understand the process that is involved is of enormous benefit and usually essential.  Now called "Stitching and Unstitching the Troubles" our taster for this project was an exhibition of a wide range of Arpilleras* (pronounced ah-pee-air-ahs) produced by different communities around the world sharing their experiences of conflict.
Associated talks and workshops during this taster period, demonstrated to everyone that the outcome wasn't focused on needlework skills but rather the perspectives and memories shared through the medium of stitch and cloth.  Enlisting the community groups followed with sessions for each group with a textile artist to create their local experiences of the Troubles.  It has become an archived collection of very powerful and evocative textile based narratives.
* Arpilleras are three dimensional textiles from Latin America, which originated in Chile, where women used this style of sewing to depict their daily lives under the repressive Pinochet regime.
The first exhibition took place in Coleraine Town Hall in September 2012. Supporting events included guided tours given by Roberta Bacic, a chance to meet and chat with Irene MacWilliam and an in-depth Arpillera workshop with Deborah Stockdale.
An event to celebrate International Peace day on 21 September 2012 took place in Coleraine Town Hall, featuring Nobel Peace Prize winner Mairead Maguire.
Project Aims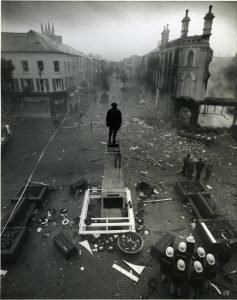 To encourage dialogue and discussion relating to the history of the Troubles
To encourage investigation of global conflict issues
To facilitate the creation of new textile artwork for use as a tool for stimulating community dialogue
To promote awareness and use of existing resources as a tool for community dialogue
To support the long term development of museum based peace and reconciliation programmes through actively collecting material relating to the Troubles and its impact in the North East
To provide new resources for the Northern Ireland curriculum to support peace and reconciliation building
The catalogue from the first exhibition is available to view
---
Project Results

An initial exhibition in Coleraine featuring textile artworks addressing conflict issues from across the world
A programme of public workshops in Coleraine, Limavady and Ballymena
A programme of guided tours and taster sessions delivered in Coleraine and Ballymena
An extensive range of talks/discussions with community groups
Co-creation/co-curation workshops with community groups from Coleraine, Ballymoney, Cushendall, Ballymena, Glenarm and Carnlough delivering new artworks for exhibition
A second exhibition featuring new artworks alongside material from around the world
Learning resource publication available on line
New artworks representing a learning resource for travelling exhibition to promote dialogue available for community venues across the cluster area