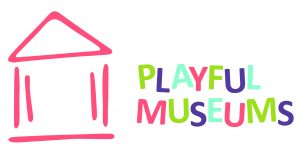 'Playful Museums' is a programme for children under 5 years, their parents and carers, linking them with their local museum. The project is organised by the Northern Ireland Museums Council with funding of £99,000 from the Heritage Lottery Fund.
Coleraine Museum was one of five museums across Northern Ireland that took part in the project. The other museums were: Armagh Public Library & No5 Vicars Hill, Carrickfergus Museum, F.E. McWilliam Gallery & Studio and the Irish Linen Centre & Lisburn Museum. The aim of this initiative was to show museums as valued places for enjoyment, fun and learning, especially for the younger visitor.
Sam Henry (1878 – 1952) was a Pensions and Excise Officer who traveled around Northern Ireland assessing elderly people for their pensions. During his work, he collected stories and songs from the people that he visited. He published the songs in his 'Songs of the People' series in the Northern Constitution. Sam has left behind a real treasure trove of songs, stories and so much more. His
collection contains such rich material, and we discovered so much that we were able to use to engage with an early years audience.
In December 2016 local nurseries took part in music workshops held in Coleraine Museum at Coleraine Town Hall and delivered by musicians Laura McFall and Kristine Donnan from Live Music Now in which they explored and enjoyed songs from Sam's collection.
In January and February 2017 the Green Class in Kylemore Nursery took part in a series of four workshops exploring Sam's collection. Jane Talbot shared Sam's wonderful collection of stories and poems. This was followed by a workshop looking at who Sam was, exploring his photographs and some of his personal items in the collection. We then created owl masks for our storytelling. Laura McFall and Kristine Donnan of Live Music Now took the class on a song hunting adventure to the park, where the class discovered some of Sam's songs. We shared all of this with parents, carers and the Mayor of Causeway Coast and Glens Borough Council. Ald. Maura Hickey, at a performance in Coleraine West on 23rd Feb 2017.