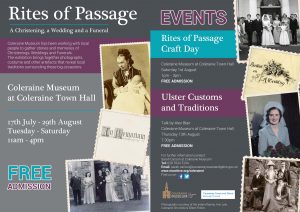 'Rites of Passage' Exhibition 
– 20th July 2015
Causeway Coast and Glens Borough Council's Coleraine Museum opened the 'Rites of Passage' exhibition in Coleraine Town Hall on Friday 17th July 2015. This fascinating new exhibition draws on memories and experiences shared by local people that everyone can relate and contribute to.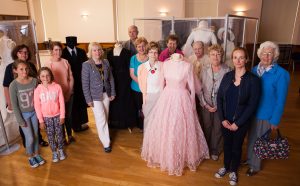 A 'rite of passage' is a significant transition in someone's life marked by a ceremony or party. Coleraine Museum has been working with local Folds across the Causeway Coast and Glens Borough Council to gather their memories of three of the biggest rites of passage – christenings, weddings and funerals. The exhibition shares these recollections and much more.

Collections Access Officer at Coleraine Museum, Sarah Carson said, "People have been very generous in lending Coleraine Museum precious items for display. The artefacts on loan really enhance the objects from Coleraine Museum's Collection. I would like to thank everyone that has contributed to the exhibition."

In the exhibition you will hear about the tradition of christening gowns being made from the mother's wedding dress, a story of a secret wedding, a milk bottle guard of honour and memories of MacFarlane's horse hearses. Residents of the Fold Housing Association and local residents throughout the Borough have kindly lent photographs, dresses and other artefacts to Coleraine Museum for the exhibition.


Mayor of Causeway Coast and Glens Borough Council, Councillor Michelle Knight-McQuillan said, "There are wedding dresses on display that date from the 1930s and christening gowns from the 1900s. It is fantastic to see so many local wedding photographs and hear the stories that go with these. I would encourage everyone to come along to Coleraine Town Hall and see the exhibition."
---