Site of Ireland's earliest known settlement
During the 1970s, Peter Woodman and his team of archaeologists uncovered evidence at Mountsandel of a Mesolithic (Middle Stone Age) settlement dated to 7600-7900BC. Their discoveries dramatically revised our understanding of prehistoric life, and the site remains the earliest known evidence of human settlement in Ireland.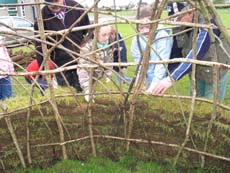 Mountsandel.com is an innovative new e-learning resource for Key Stage 2 and 3 of the revised national curriculum developed by the Causeway Museum Service. It provides schools with an insight into the evidence found at Mountsandel and what it tells us about prehistoric life in Ireland. The website has been designed with CCEA curriculum advisors and multi-media team and includes a wide variety of interactive learning activities, quizzes and games, and teachers resources.
The project links with Coleraine Borough Council's plans to install interpretive signage at Mountsandel and an exciting new piece of public art celebrating its history.