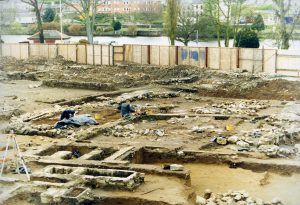 Medieval Coleraine
Today's urban Coleraine dates back to the medieval period. The Dominican Friary or Abbey, remembered by Abbey Street, was founded in 1244. In 1998, archaeologists' uncovered more than 200 medieval burials and the Abbey ruins, before the Diamond shopping centre was built.
August 2013
---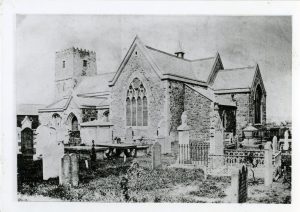 St Patrick's Church – The Oldest Standing Building in Coleraine!
St Patrick's Church is the oldest standing building in Coleraine today. In the 1990s archaeologists discovered its medieval foundations, which can be seen inside today. The Honourable The Irish Society made improvements to St Patrick's by 1613, and presented a communion plate and chalice to the Church. The church was re-built between 1883 – 1885, with alterations made to the interior in the 1990s.
Both inside and outside the Church are memorials and gravestones which pay tribute to people who lived in Coleraine in the 17th century. These include familiar family names such as Dodington, Rowley, Beresford, Munro and Hamilton.
August 2013
---

400 Year Old Piece of Timber

The timber, photographed here, was found on Church Street, Coleraine, when Moores were developing their store. The family contacted archaeologist, Nick Brannon who identified it as part of a shop front. On the timber you can see a small ledge – this would have held a shelf to display goods and an iron hook – possibly for shutters or windows. Tree-ring dating allowed Nick to date the piece of timber to c.1610, which ties in with town development in the 17th century and makes it the oldest known surviving timber from the plantation period in Coleraine.
In 1992 a bomb in Coleraine damaged the town centre. It was thought that this timber piece, which was in Moores store, was destroyed. However, the wood was so old that it was in a petrified state and though it now is charred all over, it survived the flames!
July 2013
---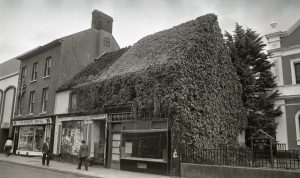 Oldest Known Town House in Ulster was found in Coleraine!
In the early 1980s, archaeologist Nick Brannon and his colleague were walking along New Row when a burnt out roof caught their attention. Nick said "there stood a massive, timber-framed roof… Close examination followed. The hand-wrought roof timbers, rafters and purlins, were numbered (in Roman numerals). Each had been shaped, pre-fabricated, on the ground, in green oak, then raised and 'keyed' into place, the carpenter's numbers helping in the raising and jointing. Tree-ring dating…found that the oak timbers had been felled in 1674!" At the time, planning permission had already been granted to demolish the building, so the Ulster Folk and Transport Museum took the roof apart and re-installed it at the Museum – where it can still be seen today. The location of this house was where Gordon's chemist is on New Row today.
July 2013
---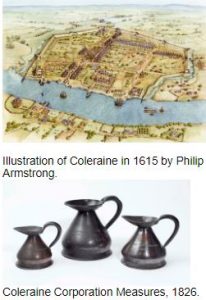 River Bann – Gateway to the world!
Coleraine's Town Charter, issued on 28th June 1613, enabled the town to sell and export goods to places around the world. Having goods to sell meant the town was able to make money and therefore sustain the economy.
Ships leaving Coleraine went to Glasgow in Scotland, Chester and London in England but also to places as far away as France and Bilbao in Spain. These ships were carrying salmon, beef, sheepskins, tallow, oats, barrel staves, pipe staves, tanned hides and more.  Coleraine also imported or brought in luxurious goods such as tobacco, French wine, silks, lace, spices, dried fruit, white sugar, white candy, vinegar, liquorice, almonds, salt cod and more. Importing such extravagant goods indicate people who enjoyed the finer things in life!
The Town Charter also allowed Coleraine to hold a market on a Tuesday, Thursday and Saturday as well as an annual 9 day fair. In 1829 The Market Yard was built and the market moved to its new venue. Today the Causeway Speciality Market brings the market back into the Diamond.
28th May 2013
---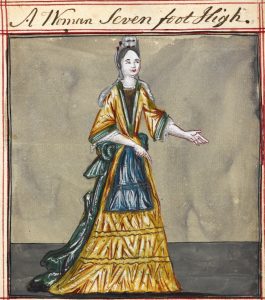 Coleraine 400's Celebrity!
Our 17th-century celebrity – The 'Portrush Giantess'- was a popular character in the Coleraine 400 schools project! Mary Murphy, also known as the 'Portrush Giantess', was nearly seven foot high. She was born in Portrush around 1670 and was said to be very beautiful. Many men wanted to marry her – she turned them all down but one… a French sea captain whose ship docked in Portrush. They married, and Mary's husband exhibited her at side shows. Sadly, it is thought that he later abandoned her – she was last seen at a show in Paris, on her own.
In the 17th century roads were poor or non-existent so people travelled by ship or boat. Rivers and the sea were the gateway to the world! Harbours and quays gave access to towns and cities, and enabled the export and import of goods. Mary Murphy met her French husband in Portrush after the ship he was sailing landed there – he whisked her off to Europe.
4th June 2013
– image courtesy of the British Library.