Dear Diary… week ending 1st May
4th May 2020

Mountsandel – The Salmon People
12th May 2020
We are now seven weeks into the official lockdown, with at least three more on the horizon. A few more contributions to the Dear Diary project have been showcased below; do click through to the ARCHIVE, to see all the material that we've been able to upload so far.
Coleraine
ALL THE RIVERS CRIED
by Pat Walton-McClements (3rd May 2020)
The year was twenty twenty
Covid-19 stalked the streets
Of every town and every city
And where people stopped to meet
No-one could see it coming
And countless people died
The mountains sadly bowed their heads
And all the rivers cried
This unseen enemy gave no warning
There was no smell or sight or sound
It struck with brutal speed and force
No cure could be found
NHS staff they were the front line
Battling bravely side by side
To save fathers, mothers, children
And all the rivers cried
The people were in lockdown
There was fear within their hearts
Safe distancing was practised
As each person played their part
It was impossible to escape the virus
Its havoc spread worldwide
Dark clouds hung above the earth
And all the rivers cried
Then one day the clouds they parted
And a rainbow took their place
A sign of better days ahead
A sign of God's promise and His grace
The scientists, nurses, doctors
Won the battle for the dying
For mothers, fathers, sons and daughters
And the rivers stopped their crying
Life returned to normal
But yet, it never was the same
For humanity had learned to love and care
And no more inflicted pain
The air no longer was polluted
The earth began once more to breathe
The mountains held their heads up high
And the rivers gurgled in the breeze
Neighbours got to know each other
Every creed reached out their hand
In friendship with their brothers
And so brought peace throughout the land
That is why the world today
Is a better place for every girl and boy
Why the mountains held their heads up high
And the rivers danced with joy
Portrush
Portrush Rocks – an initiative set up by local mum Amanda Gibson to get children and parents out in the fresh air hunting brightly painted stones and re-hiding them for others to find – have come up with a touching tribute to all the workers battling against the Coronavirus. They are asking people to paint little stones and rocks in tribute to the frontline workers and leave them at a special cove near Portrush Harbour. The idea is NOT to remove these stones but to let them gather for everyone to read, admire and add to. Courtesy Una Culkin, originally posted on Coleraine Times website 05/05/2020
***
We continue to monitor developments in Museuem Services HQ closely, with reports that nature is very much in the ascendancy seven weeks after people.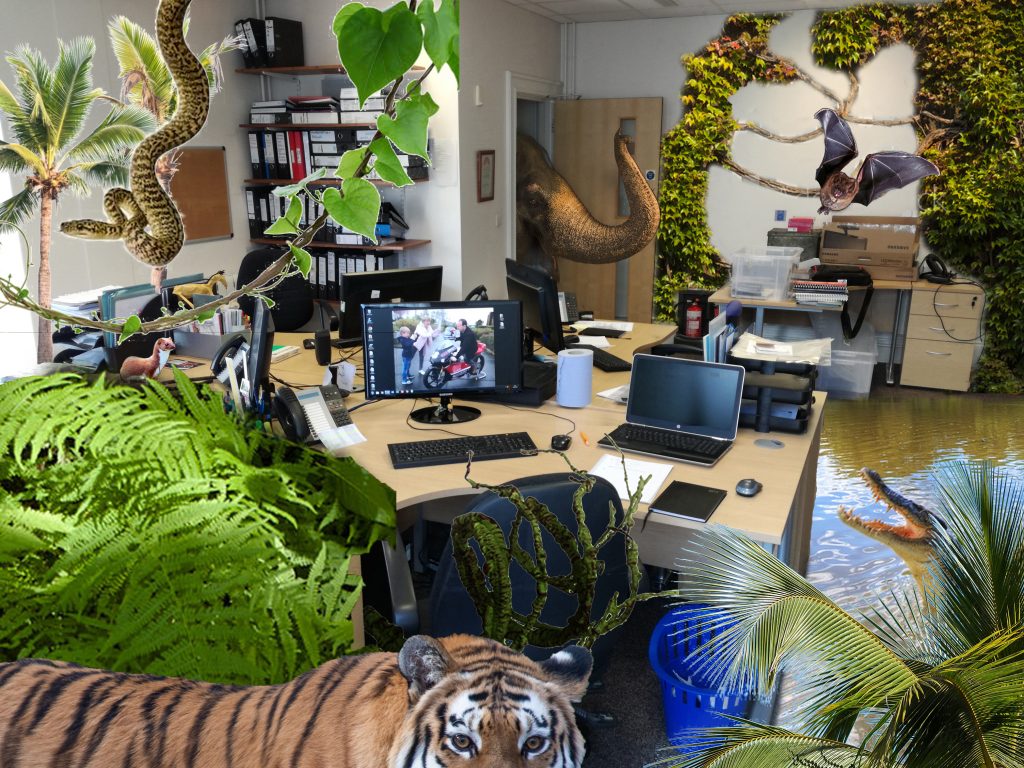 If you'd like to contribute to the Dear Diary project, you can find more details HERE.