The 'Echoes of the Causeway' Heritage Trail App
9th April 2020

Victorian Coleraine Resources
16th April 2020
With (home)school holidays upon us, and children bouncing off walls in a chocolate-fuelled rollercoaster of joy and boredom, here are a few more snapshots of life in the borough in the age of social distancing.
Ballycastle
Castlerock
Coleraine
Rathlin
Alison McFaul sent in two poems for the archive which really illustrate the changing times. She writes: "The first I wrote in January and the second two months later, after celebrating my Birthday with friends, virtually on What's App.   Little did I realise how life would change around that corner!"
On Approaching Sixty-Five
Soon Sixty-Five!
I'm still alive!
But slipping down that hill.
I'm not exactly suffering pain
or often feeling ill,
but it's become quite ob-vious,
and I've become quite con-sci-ous,
of ageing defects in my eyes.
And I feel it's getting harder, when from sitting I arise,
to not go 'Ooh' ,
like I hear the elderly do.
And it's not so easy to touch my toes
Or hold a one-legged standing pose.
My skin is crepey, eyes are baggy,
Muscles slack and posture saggy.
I keep my mind in training with daily sudoku
And delight each time I decipher a cryptic crossword clue.
I love to use my Smart pass and to travel far and wide
for free on bus and trains and the Rathlin Ferry ride.
Despite these senior benefits and the pensions I receive
I can't believe I'm sixty-five
(I don't feel I've been that long alive).
and I don't feel any way ready yet to be thinking it's time to leave.
But old age is creeping up on me
I feel it in my bones
I can sense fair youth is far behind – ahead are darker tones.
So I'll make the best of every day. I don't know when they'll end.
And I'll try not to dwell on dismal thoughts of what's around that bend.
Alison McFaul, January 2020
NOW SIXTY FIVE
Now sixty five
And still alive
But how the world has changed!
All our sense of normality
Has now been quite deranged.
We are all to keep ourselves apart
To keep each other safe.
We need to take the greatest care
Not to contaminate;
To wash our hands
And keep them clean
Before it's all too late.
To coughs and sneezes,
Spluttering wheezes,
We now add a deadly foe.
Please take every precaution
not to let it grow.
The coronavirus is spreading fast
Infecting more and more
All across the whole wide world
Shaking nations to the core.
There's not enough protective gear
To satisfy demand.
Social distancing and selfcare
Is all we can command.
Alison McFaul, March 2020
National news
Despite Prime Minister Boris Johnson spending much of the week in intensive care himself, his office sent out letters to all households outlining the government's approach to the pandemic:
Boris Johnson letter

***
Yer man in Ballymoney has also provided an updated photo of Museum Services HQ, three weeks after people…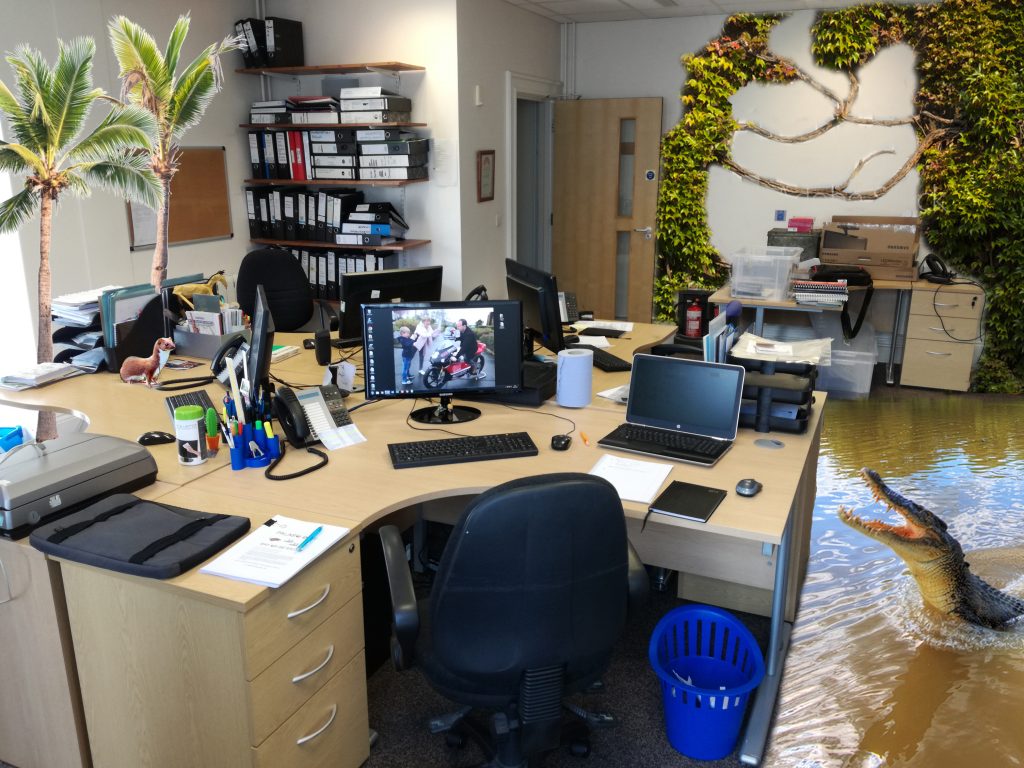 If you'd like to contribute to the Dear Diary project, you can find more details HERE.