Portcaman is the name of a series of publications by the Bushmills Folklore and History Group. The first Portcaman was created in 1993 and the editors of the magazine hope to offer material that will get the reader reminiscing over the long, dark, winter months. The History Group is interested in photos, books, old postcards, letters, diaries, old magazines and billheads that will stir the memories of names, faces and places long forgotten.
The books are available in local bookshops in Bushmills, including David Speers' Causeway Books. Overseas readers who wish to purchase a copy of the magazine can write to raymondmcmullan@hotmail.com for more information.
The Bushmills Folklore and History Group meets on the first Wednesday of each month (with the exception of July and August) in the Bushmills Community Centre at 8pm.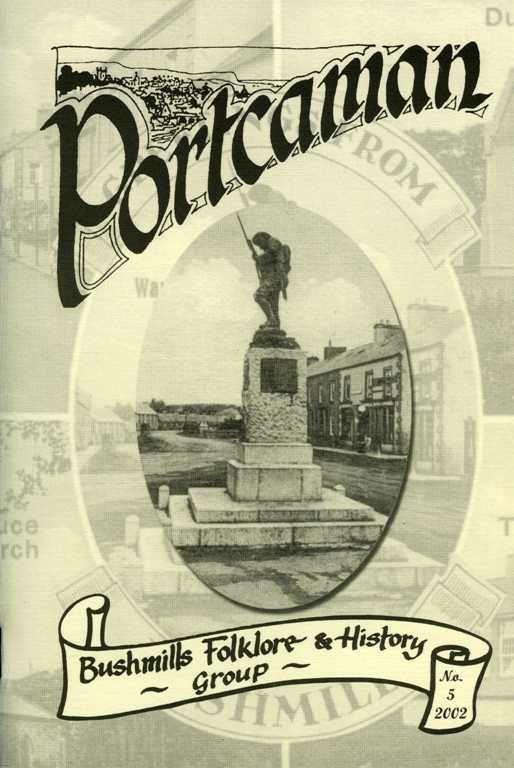 Publication no. 5, 2002.
This book contains a number of articles on a wide range of subjects. In "From Bushmills to Australia" by Kenny and Edith Blair, the story of emigration to Australia and a subsequent correspondence between cousins is told. "'Ip' the Shore" by John Speers is an article about the history of the Templastragh Football Club. James McAllister contributed a story, "Arrow", about the racing skiff 'The Arrow of Portmoon'. Ian Page wrote an article about "Emigrants to the New World". In "Joseph Watters", James S. Watters discloses the story of his father, who served with No. 4 Commando. Robert Thompson has researched local War Memorials and writes about them in "Coleraine Heroes". Finally, in "The Orange Order in Lower Dunluce District", Cecil Kirkpatrick gives an insight in Orange Lodges in and around Bushmills.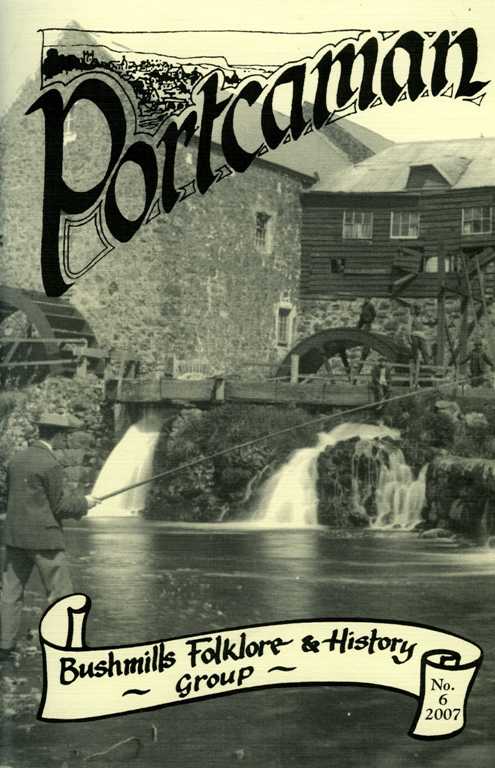 Publication no. 6, 2007.
This book contains more articles than the previous edition and again, they are very varied.The following list is a small selection. John Speers writes about "The Day the American Civil War reached the North Antrim Coast". Ian Page shares a "Horrible Tragedy" with us about two similar murders."A portrait of Sammy McKinney" is contributed by Edith Blair. Muriel Meyler tells us that "These Ulster Soldiers Abroad Didn't Forget About 'the Twelfth'". Ian Page did research into genealogy and contributed "Gleanings in Family History from the Antrim Coast", while John McCurdy provides us with a few notes on the "Billy Church and Graveyard". Apart from articles, the book contains various letters, newspaper clippings and a wealth of old photographs.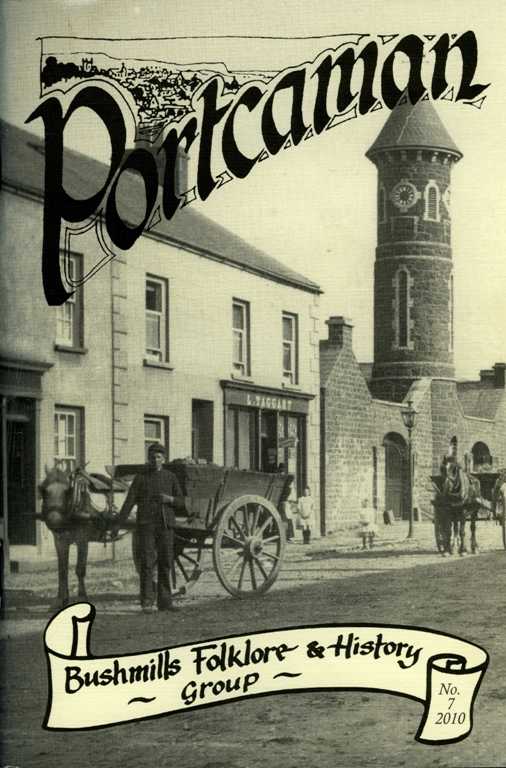 Publication no. 7, 2010.
Publication number 7 is even more packed with historical facts and figures. Contributions include an article on the "Bayview Hotel" by Edith Blair, a "Personal Memory of the Causeway Tram" by Michael Pollard and "The Pilgrimage" by Raymond Meredith. Philip Watson writes about "Three Men and a Boat", while Muriel Meyler contributes an article about the "Bushmills Presbyterian Badminton Club". Frank Scott writes a poem about "Dunluce Castle" and Reggie Montgomery tells us the story "Once Upon the Salmon Green".