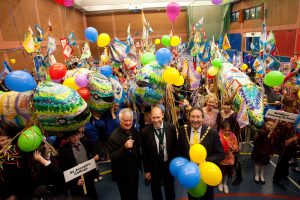 Coleraine 400 Schools Project Finale Event
Due to the weather, the Coleraine 400 schools project finale event had to be held indoors – in the Leisure Centre.
Pupils from Millburn Primary School, Kilrea Primary School, Hezlett Primary School, Portstewart Primary School, The Irish Society's Primary School and St Joseph's College enjoyed viewing their completed artworks. The Mayor, Cllr David Harding, said "the salmon, flags and bunting look fantastic, they are so colourful and vibrant. I would like to congratulate all the children who took part. The samba band from Dominican which was led by Ian McDonald, gave the morning a real carnival atmosphere. I would also like to thank The Honourable The Irish Society for funding the project." Edward Montgomery of The Honourable The Irish Society, commented that "The Irish Society's trustees are delighted to have been able to sponsor such a worthwhile historical and cultural project, that has reminded all of us about Coleraine's fascinating past and its special relationship with the City of London.  I would commend all the schools and children that have taken part, and wish to thank all those in Coleraine Borough Council and its 'Coleraine 400' steering committee that have helped to bring it to such a successful conclusion."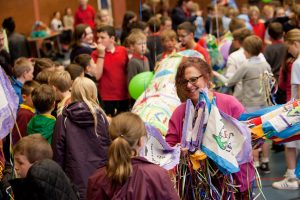 These artworks will be on display in the Coleraine 400 exhibition which will open in Coleraine Town Hall on 23rd September 2013 until 2nd November 2013.
July 2013
Mayor, Cllr David Harding with Edward Montgomery
of The Honourable The Irish Society and Brian Moore.
Pupils enjoying Dominican's samba band.
Dominican Samba Band.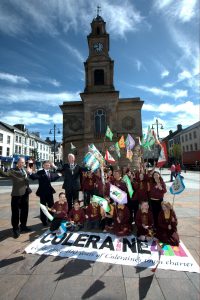 Bringing the 'salmon' back!
The Coleraine 400 Schools Project has been facilitated by Coleraine Borough Council and funded by The Honourable The Irish Society. The project has involved twenty one schools from across the Borough with over 550 pupils participating in interactive history workshops, town tours and a textile art workshop. These have given pupils an insight into 17th-century Coleraine and their local history. The results of the workshops are nearly 600 fantastic, colourful banners which have been made into bunting, flags and giant 'salmon' for the finale parade. We are taking this opportunity to showcase one of the completed salmon but there are 4 more to come! The parade will take place on Thursday 27th June at 12.30pm from Coleraine Leisure Centre – come along and help us bring the salmon back to Coleraine!
28th May 2013
The Honourable The Irish Society visit Coleraine
Mayor of Coleraine, Councillor Sam Cole, along with representatives of The Honourable The Irish Society visiting from London, went to The Irish Society Primary School in Coleraine to experience the Coleraine 400 schools project. Mayor of Coleraine, Councillor Sam Cole said "Talking with the children today and seeing what they are developing, keeps the understanding of our history alive, it is intriguing to see what they have discovered about Coleraine and what images they think represent the town four hundred years ago."
Prior to the pupils textile art workshop with Angela Ginn, the children had participated in a history workshop in Coleraine Town Hall, which involved a guided tour of the town. They discovered the location of the Abbey and what archaeologists found underneath it, jumped over where the ramparts would have been near the Kings gate, revealed the history of St Patrick's Church and found out about the oldest known town house in Ulster found on New Row, which is now in the Ulster Folk and
Transport Museum at Cultra. The children were entertained by stories of local characters and smelt the smells of 17th century Coleraine.
15th March 2013
Some of the fantastic crests created by local school children taking part in the Coleraine 400 schools project!
February 2013
​