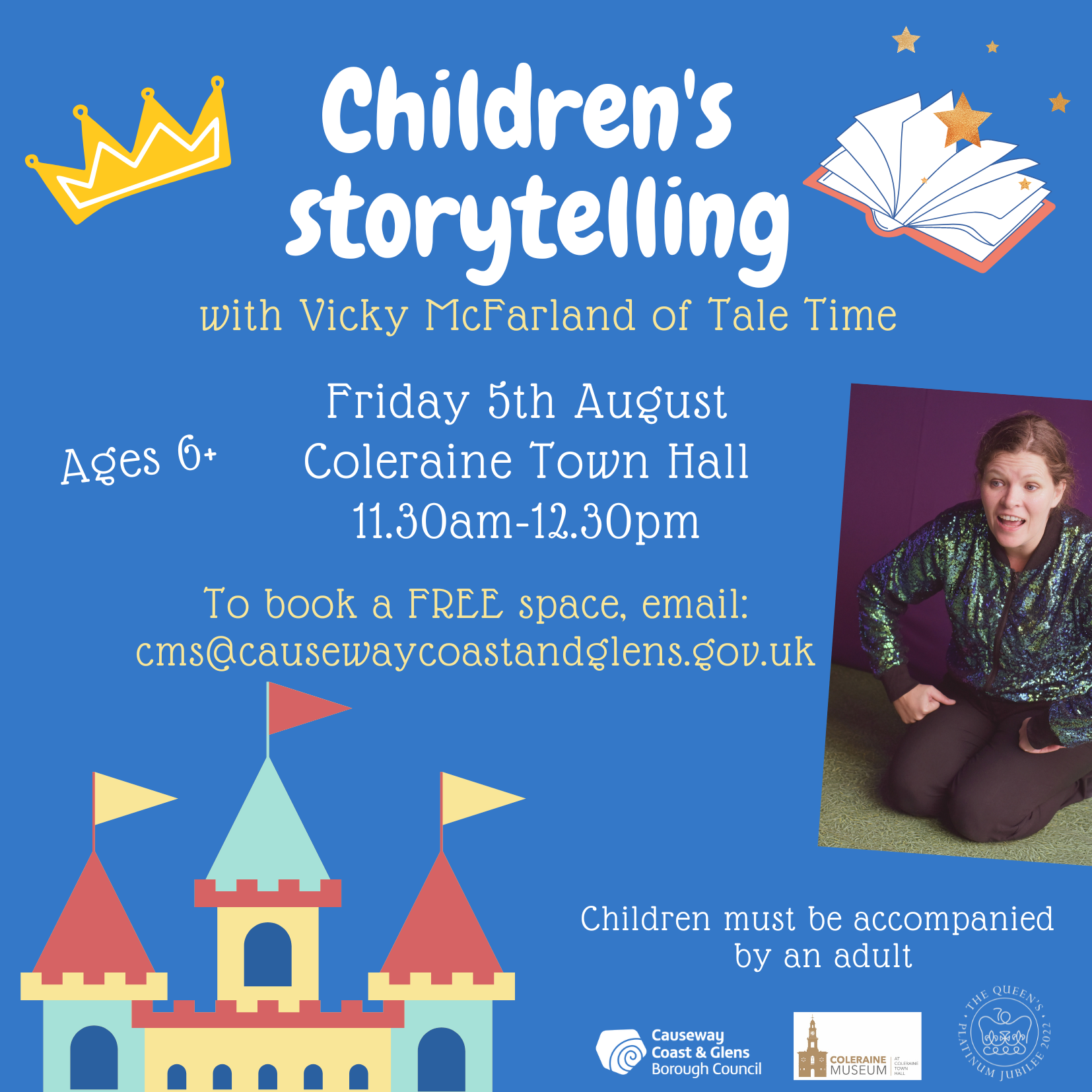 Children's Storytelling
Coleraine Museum at Coleraine Town Hall
Join Vicky McFarland of Tale Time, children's storyteller, as she shares stories of Queens and Royals this summer. Vicky's stories are full of magic and mischief, charm and heart. Join her for an hour of animated storytelling that will transport you into a world of your imagination.
Friday 5th August
11.30am to 12.30pm Spaces are limited. Booking required - email cms@causewaycoastandglens.gov.uk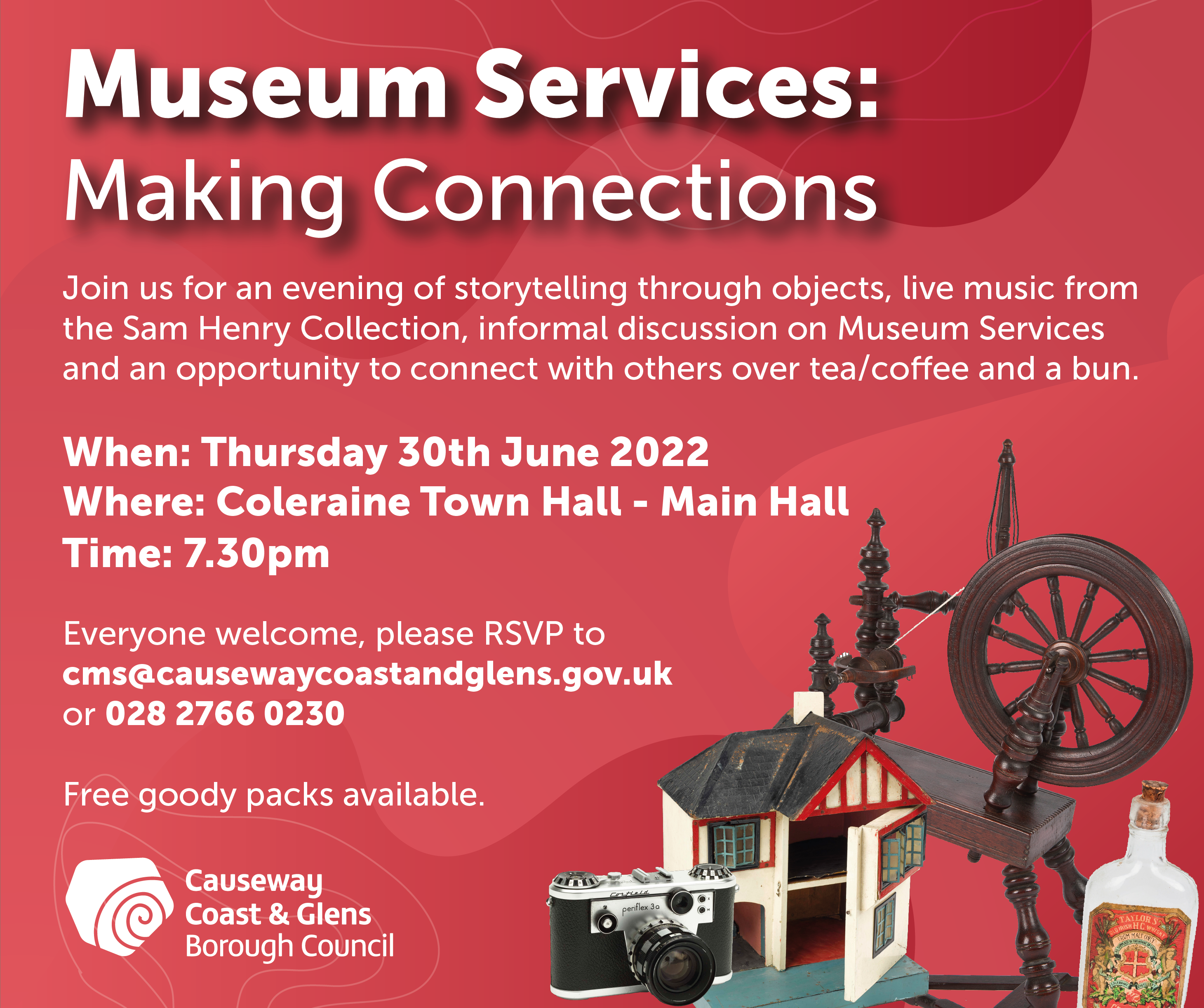 Museum Services: Making Connections
Causeway Coast and Glens Borough Council's Museum Services are hosting an evening of storytelling through objects, live music from the Sam Henry Collection, informal discussion on Museum Services and an opportunity to connect with others over tea/coffee and a bun.
Thursday 30th June 2022 in Coleraine Town Hall at 7.30pm.
Everyone welcome, please RSVP to cms@causewaycoastandglens.gov.uk or 028 2766 0230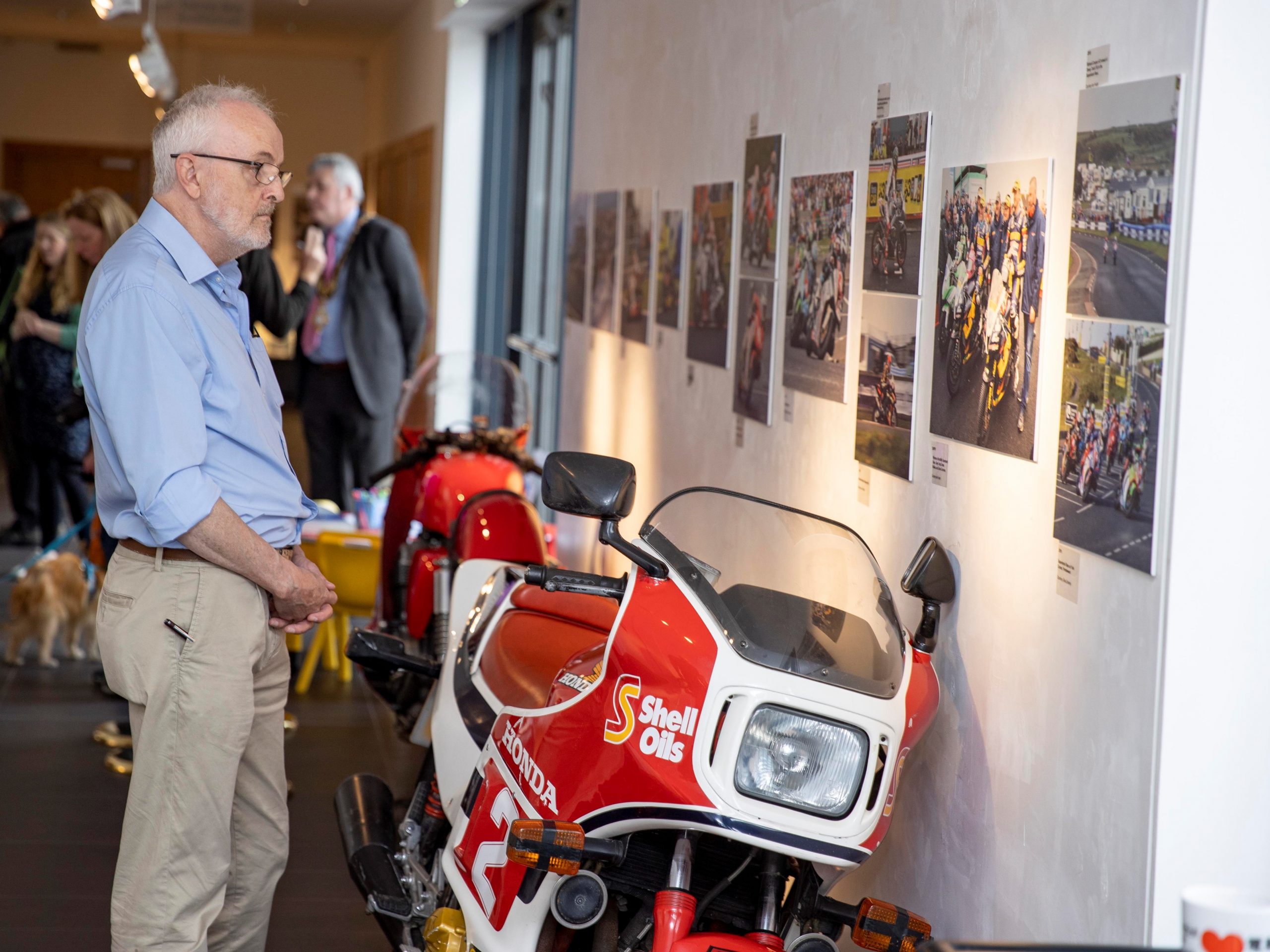 NW200 Exhibition at Limavady Museum
The '90 Years of NW200' exhibition in RVACC features photographs from the book NW200 90th Road & Race by Ian Foster. The exhibition runs until Saturday 20th August and is open Monday to Thursday 10am – 4pm, Wednesday & Thursday 7pm – 9pm, Friday 10am – 3pm and Saturday 10am – 1pm.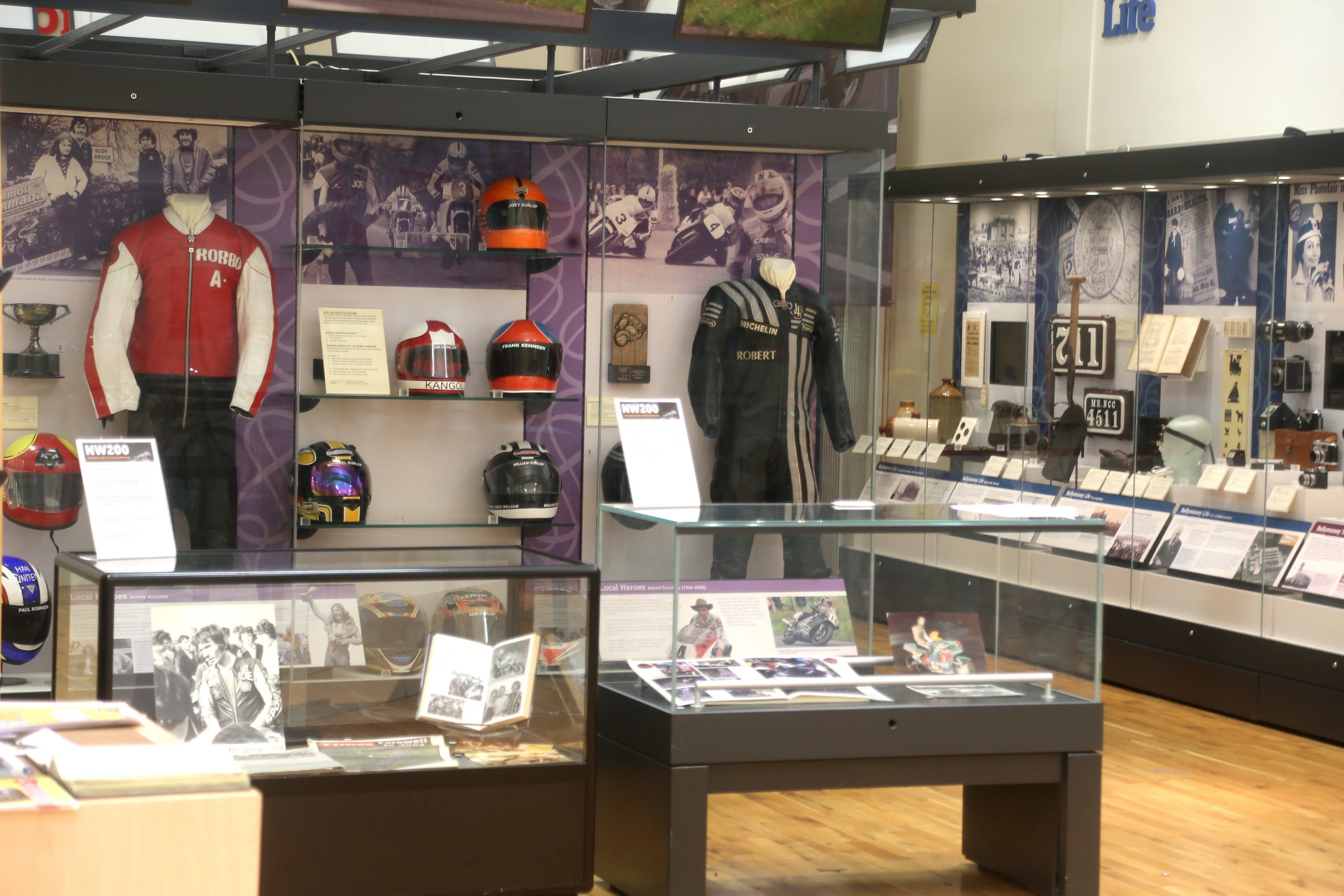 NW200 Exhibition at Ballymoney Museum
'The Race and the Places' exhibition explores the NW200 showcases a selection of racing bikes, photographs, trophies and memorabilia, as well as a timeline covering the past 90 years of racing. The exhibition continues until Saturday 27th August and is open Monday to Saturday 9.30am – 4.30pm.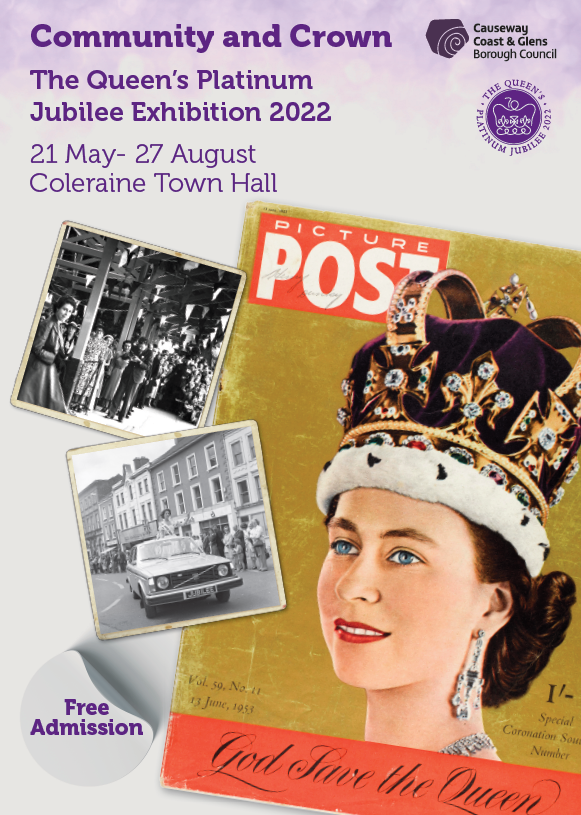 Community and Crown: The Queen's Platinum Jubilee Exhibition
Coleraine Museum
New Exhibition at Coleraine Museum in Coleraine Town Hall
21 May - 27 August
Tuesday to Saturday, 11am-4pm
Historical photographs, artefacts and oral histories take you on a journey exploring community celebrations of the Queen's Coronation in 1953 and her visits to Ballymoney, Coleraine and Downhill and in more recent years, including her historic visit to Dublin in 2011.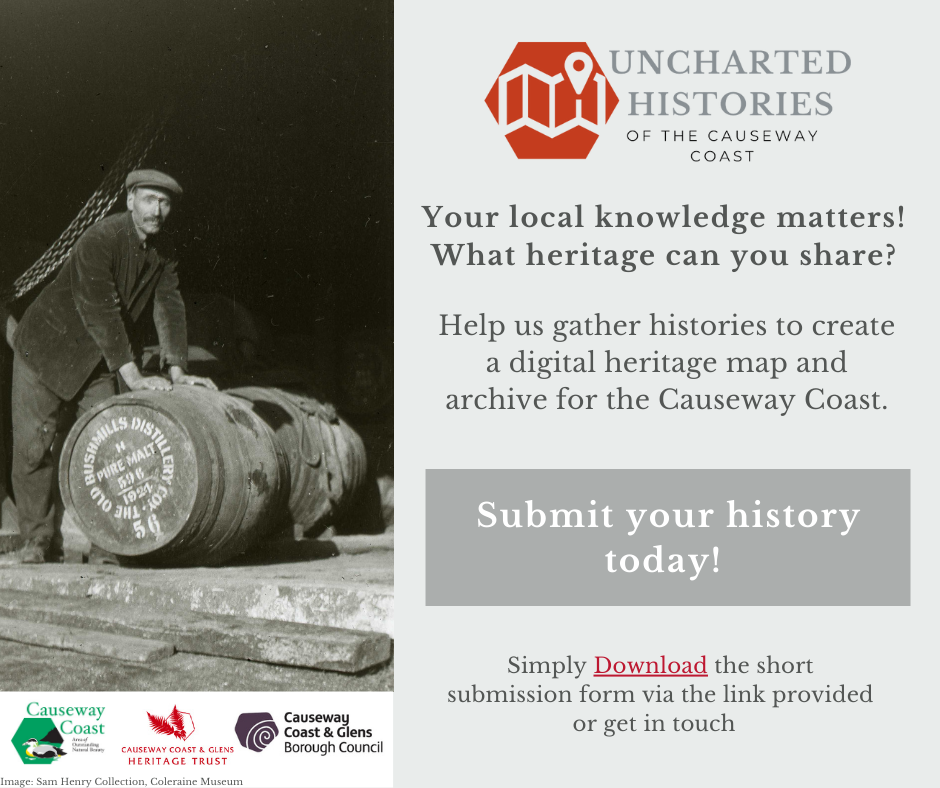 Uncharted Histories programme
NOW RECRUITING GROUPS
Led by the Causeway Coast and Glens Heritage Trust, this project will gather lesser known histories along the Causeway Coast, creating digital resources and delivering free events and activities for the local community. Get involved, share your local knowledge and help enrich our understanding of the Causeway Coast, past and present.