Explore Sam's remarkable collection to reveal people and places across the Causeway Coast and Glens area.
Sam Henry, born in Coleraine in 1878, is best known as a folklorist and recognised for his 'Songs of the People' collection that was published in the Northern Constitution newspaper between 1923 and 1939.

Sam worked as an Excise and Pension's Officer. He visited elderly people around the Causeway area, and beyond, and assessed them to see if they qualified for a pension.

He combined his work with a passion for folk music and stories and, in doing so has preserved local cultural traditions that otherwise may have been lost. Sam captured people through prose, poetry, language, song and photography. Join us on a journey across the Causeway Coast and Glens, to meet just some of the people he encountered.
Ellen McLaughlin "Old Ellen of the hills", Croaghan, Macosquin (c.1845 – 1920)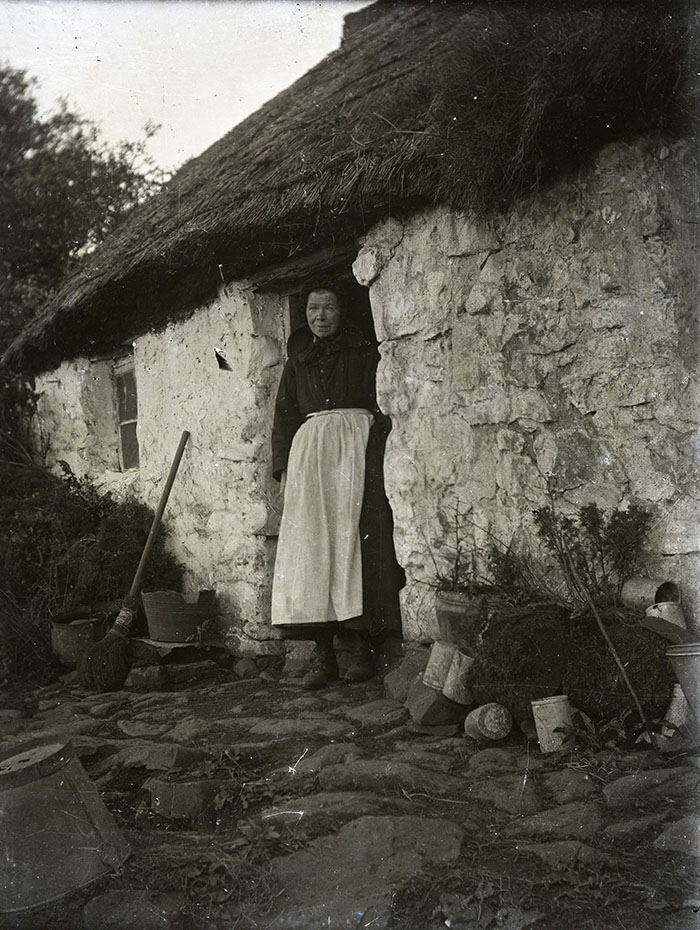 Ellen McLaughlin lived alone in a small house in Croaghan, Macosquin, and had worked as a seamstress. Sam Henry met Ellen when he assessed her for a pension.
Of all the old people whom I met, I thought most of Ellen McLaughlin, of Croaghan. I sent a photograph of her to the Tullgrawley children and asked them to make a lino-cut, and it is here included to convey that sweet simplicity for which old Ellen stood..
~ Sam Henry, A Hank of Yarns. The Coleraine Chronicle Company Limited, 1939, p. 85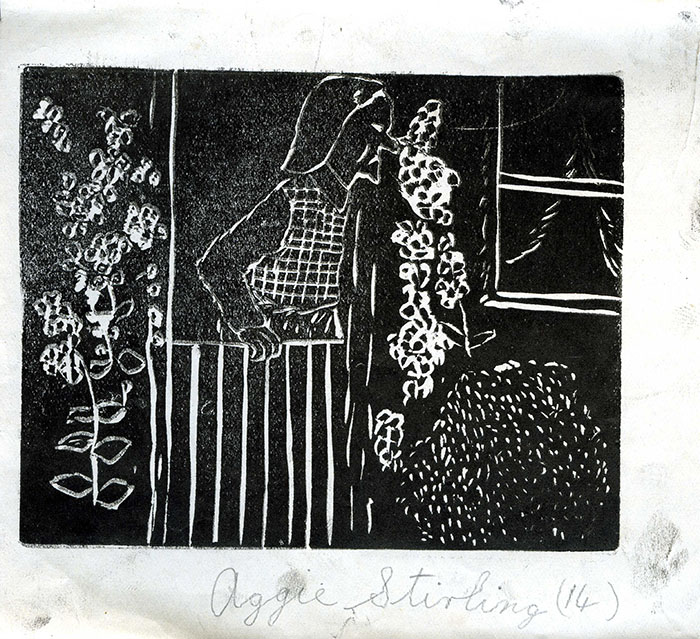 Old Ellen of the Hills her name;
Her home a straw-clad cosy nest.
All living things, both wild and tame,
Were Ellen's friends and shared her best.
…
True-hearted, simple, kind, and sweet
Is dear old Ellen of the Hills,
The finest sifted heart of wheat
In God's sure, slowly-grinding mills.

~ Extract from a poem that Sam wrote for Ellen's pastoral when she died on 26th December 1920.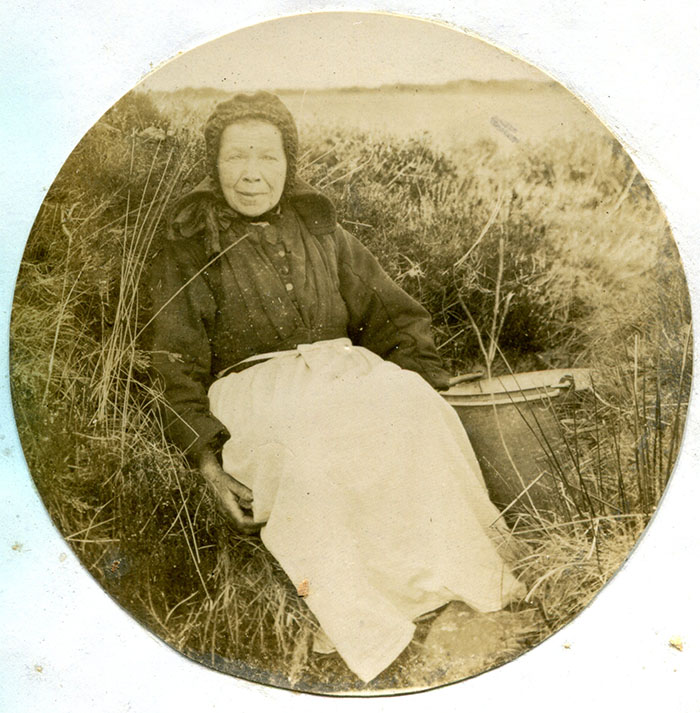 Mary McCann, Dunlade, near Faughanvale (c.1860 – 1939)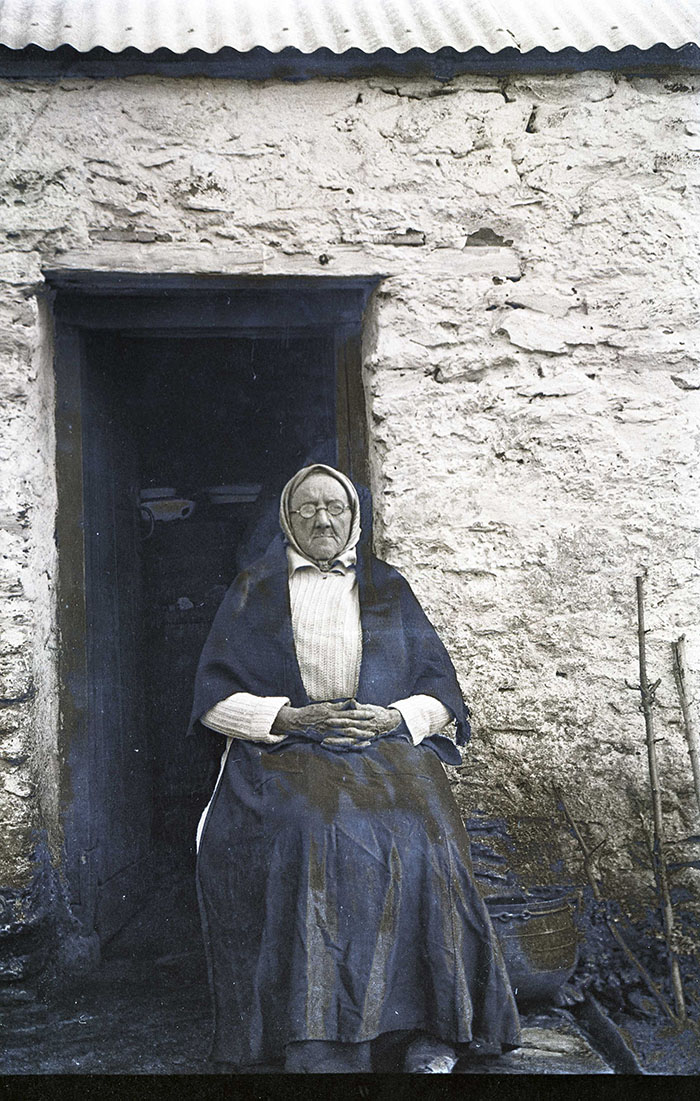 Louis Walsh looked for true worth and where he found it, he bestowed his praise. An old lady at Dunlade near Faughanvale Co. Derry, Mary McCann the bookworm, who from her humble dwelling on the face of the mountain, radiated culture which embraced such eminent litterateurs as Compton MacKenzie … I also was a disciple of Mary McCann and will never forget her summary of life's ambitions; "My uncle Robert," she said "had all that this life can give; he had a fiddle, a telescope; an armchair and £200 under his pillow."

~ Sam Henry wrote of Mary McCann in a tribute to Louis Walsh
This photograph of Mary McCann, taken by Sam Henry, featured in the Derry and Antrim Yearbooks of 1939 and 1940, and described her as a local folklorist from Greysteel, and a known resident of Faughanvale, who died in October 1939. She was referred to as a bookworm because she had 30-40 books, which were all that remained of a collection of 700 that she had been forced to sell.
In 1911 Mary was aged 51 and a widow. She worked as a Publican and lived with her father, her sister, niece and nephew.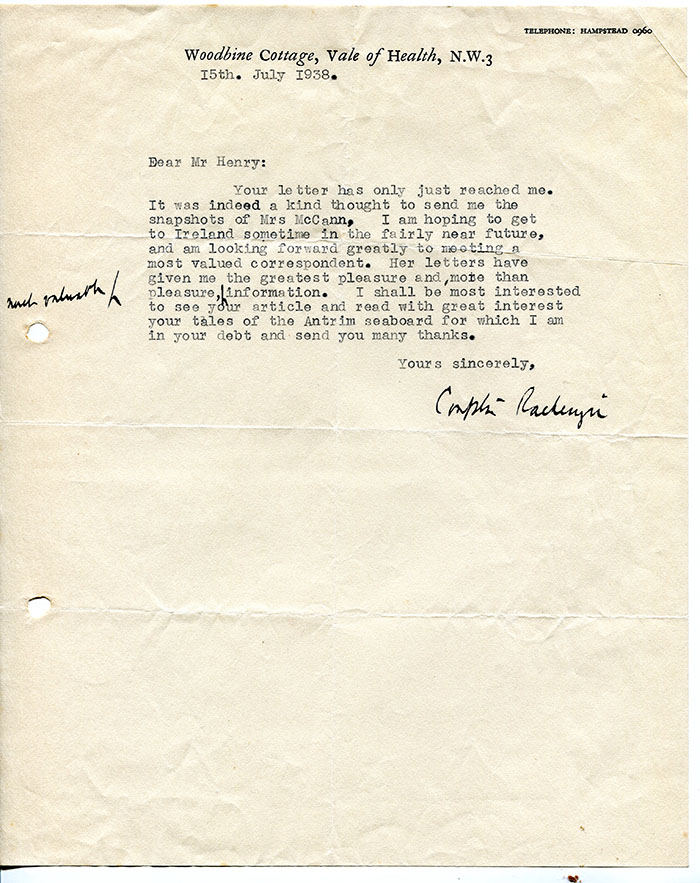 John Henry Macauley, Glenshesk, Ballycastle (c.1880 – 1937)
John grew up on a farm in Glenshesk and, due to an accident when he was young, was disabled. He was taught to carve wood and opened a shop on Ann Street in Ballycastle which was known as the bog oak shop. He carved model jaunting cars, round towers, broaches and pendants decorated with views of Ballycastle out of ancient bog oak. He was a well-known fiddle player and song writer.
John contributed at least 21 songs to Sam Henry's Songs of the People series, if not more.
Sam has a list of songs dating from 26th September 1925 that belonged to John, which included the well-known song 'The Ould Lammas Fair'. The collection includes copies of these songs as well as letters from John Henry Macauley or, as he signed himself off, 'The Carver'.
There is a plaque dedicated to Macauley above McLister's shop in Ballycastle.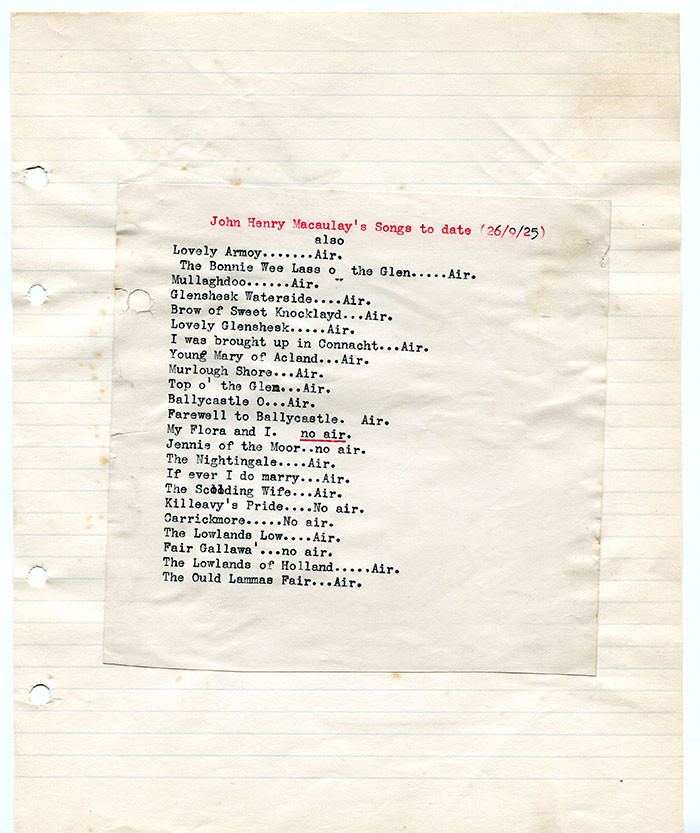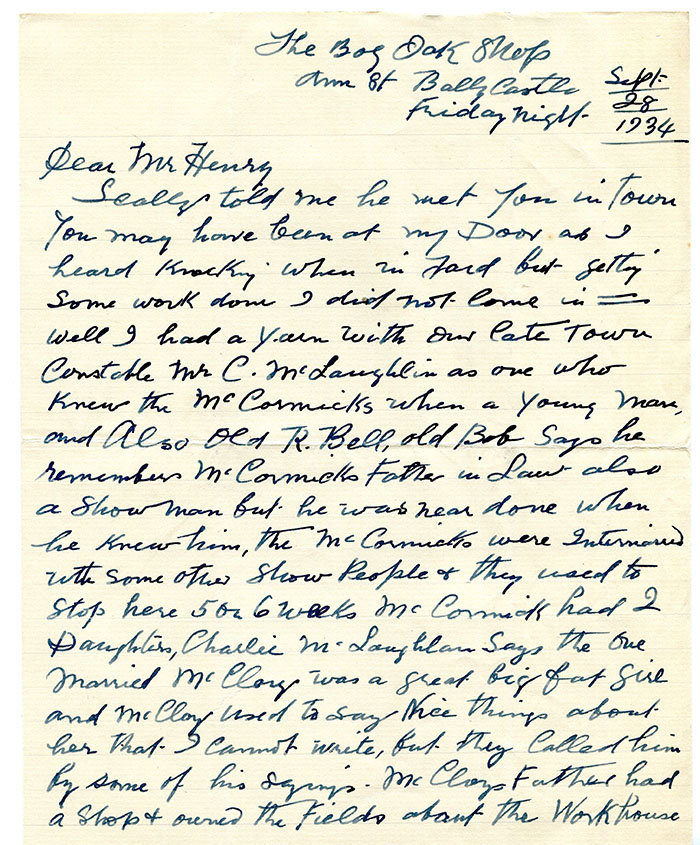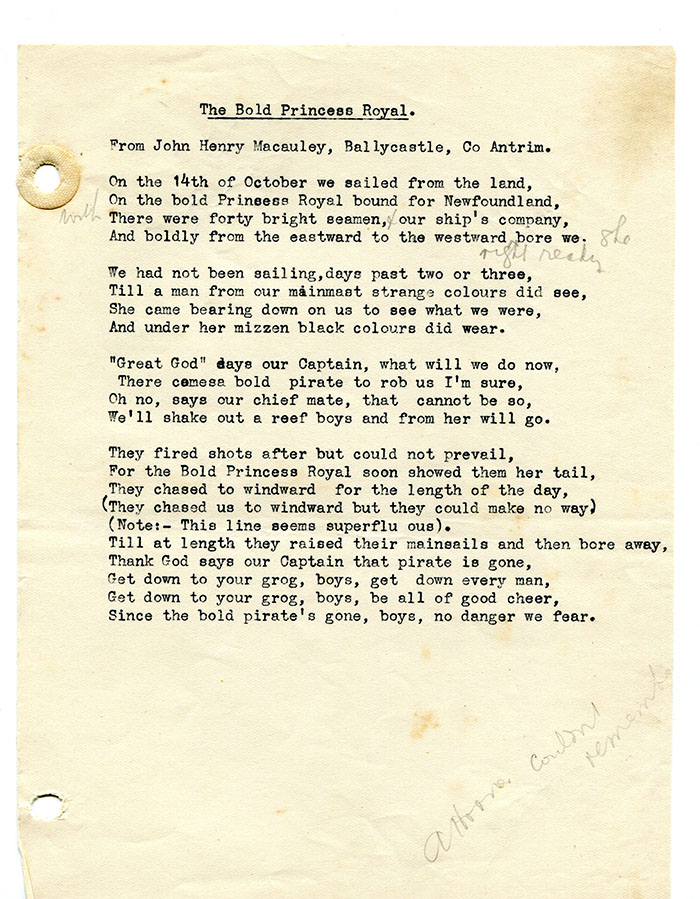 Mrs John Roe McNeill, Glendun Top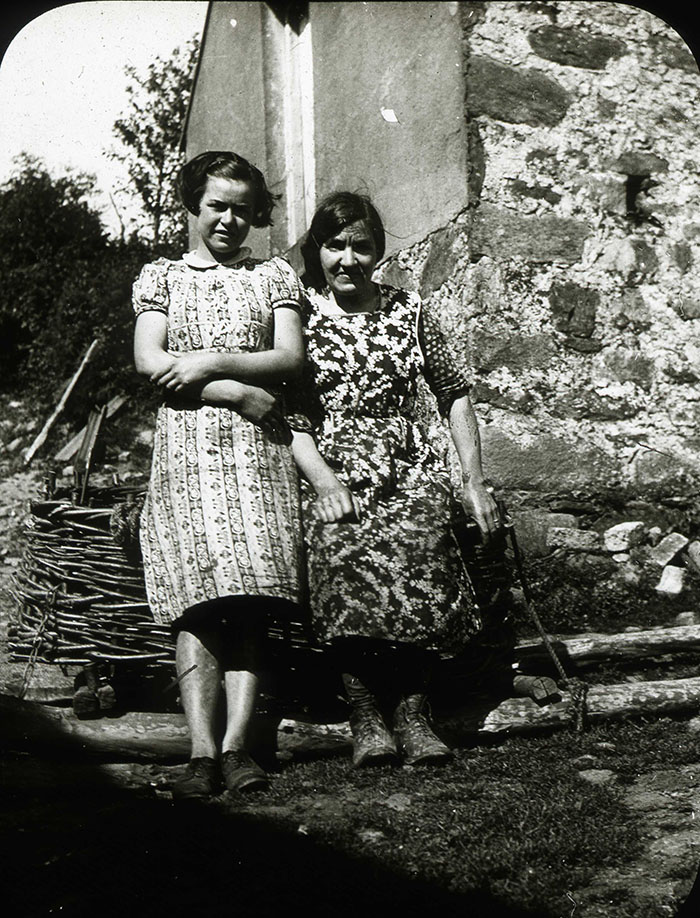 Mrs McNeill, known locally as Maggie Archie, lived at Erragh, Glendun Tops.
In a BBC Radio programme about Sam Henry, recorded in 1978, Jack McBride talked about accompanying Sam on a visit around the Glendun area. On their travels, they called up to a house and were invited in by the owner – Mrs McNeill. Sam asked if she would tell them some of her stories and she agreed. She hummed the tune of a song as she made them a cup of tea. Jack said that Sam's ears pricked up and he asked if she knew the words to the tune. She said, of course, that she learned it from her Granda. Mrs McNeill sang the song and Sam had his notebook out and scribbled it all down. She then said to them 'imagine me giving you the tea out of an old black pot' and explained how she had looked in Cushendall and Ballymena and couldn't get a kettle. Sam told her not to worry, that he had a brother in law in Coleraine that would get her a kettle. He did just that and delivered it to her!
This letter, from Mrs John Roe McNeill, refers to the bargain between her and Sam – that in return for a much needed kettle she would send Sam 10 songs. The kettle cost 10/6 and if she had not 10 songs, Sam gave her the option to pay the balance in cash.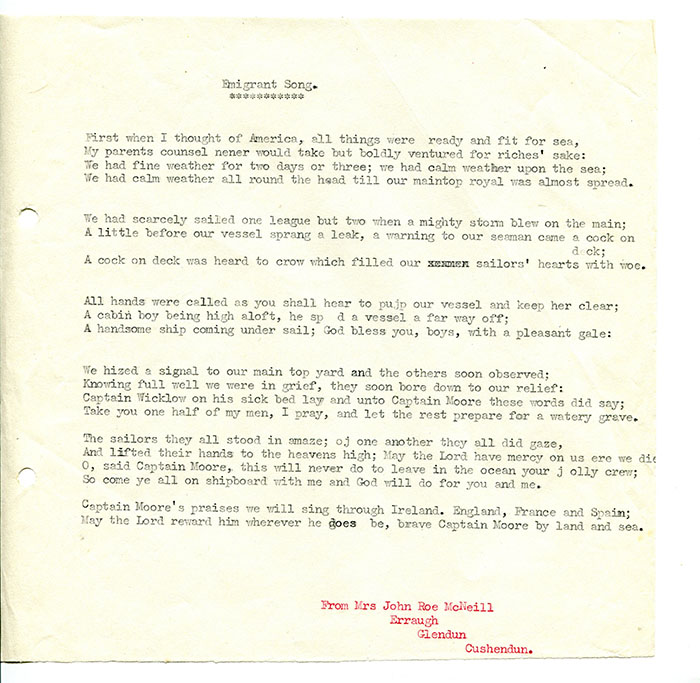 Katie Glass, Ouig, Rathlin (c.1859 – 1954)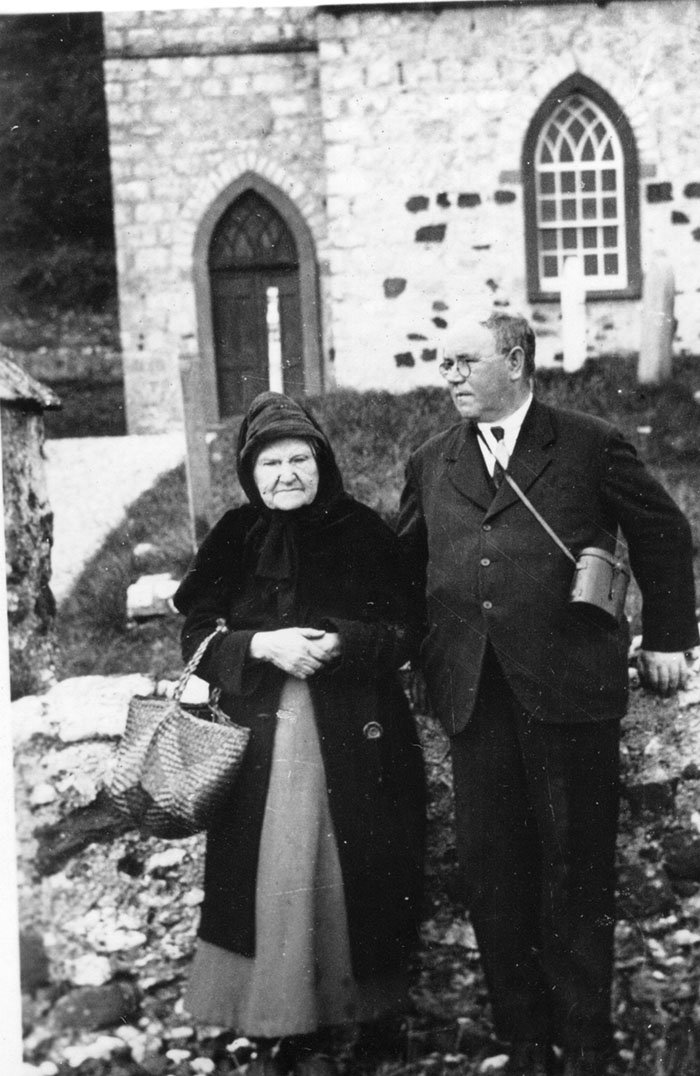 Katie Glass was a famous lilter – singing tunes without words – and enjoyed telling stories. She shared her songs and stories with Sam Henry.
Katie Glass of Rathlin told me of a boy who was spirited away by the fairies – a wee cub of five or six he was. Nearly a week passed and the lads parents were in distress. Until one day a big sheep left the boy at the door, without a bleat out of her. A remarkable instance of an animal medium linking this world to fairyland.

~ Sam Henry, A Hank of Yarns. The Coleraine Chronicle Company Limited, 1939, p. 22
Sam attributes the song, The Boatman/ Fear a Bhata, to the "Gaelic of Mrs James Glass (Rathlin Island)." This song is still sung on the island today.
Andrew Dooey, Dunloy (1870 - 1943)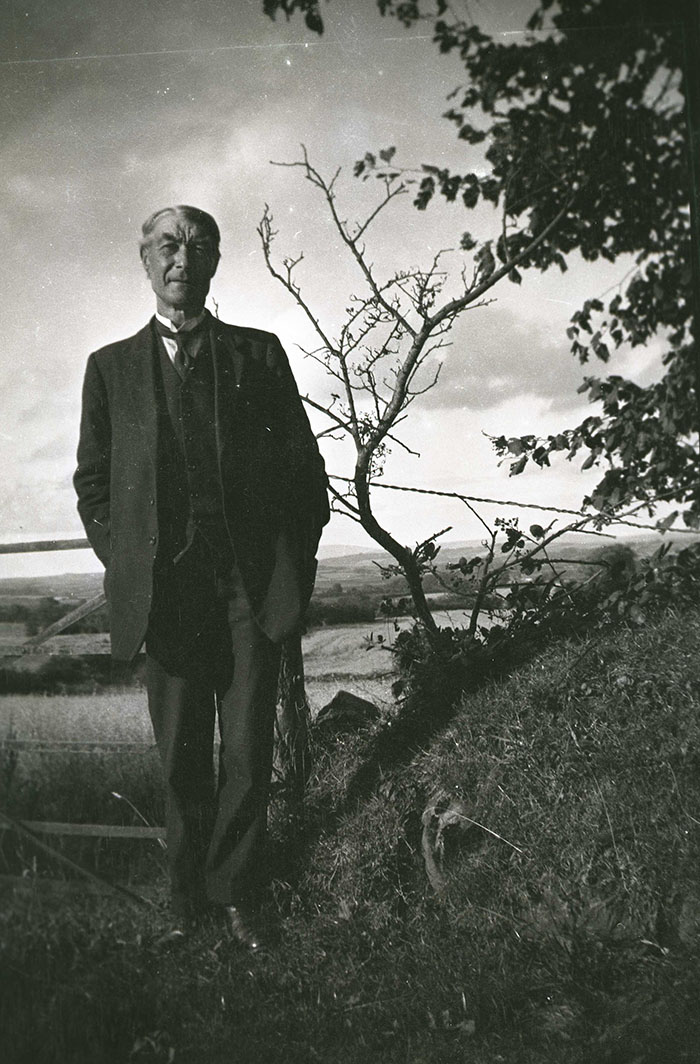 To know Andy Dooey was to love him and to be loved by him.

~ Sam Henry, Andy Dooey of Dunloy: Poems & Writings, compiled by the Dooey Twins, Flixx Graphics, 2001
Andy Dooey is possibly most associated with Dooey's Carin, the ancient burial ground excavated on his land for the first time in 1935 after he reported the stone formation to Queen's University in Belfast.
He is also known for his love of Ireland and the Irish language and he started his own Irish language class. Sam Henry often asked Andy to translate Irish to English for him.
Andy served as a Councillor for the Ballymoney District Council and he was involved in the first Feis na Gleann in 1904 as a member of the Coiste na Feise.
Tom Black, Croaghan, Macosquin (c.1843 - ?)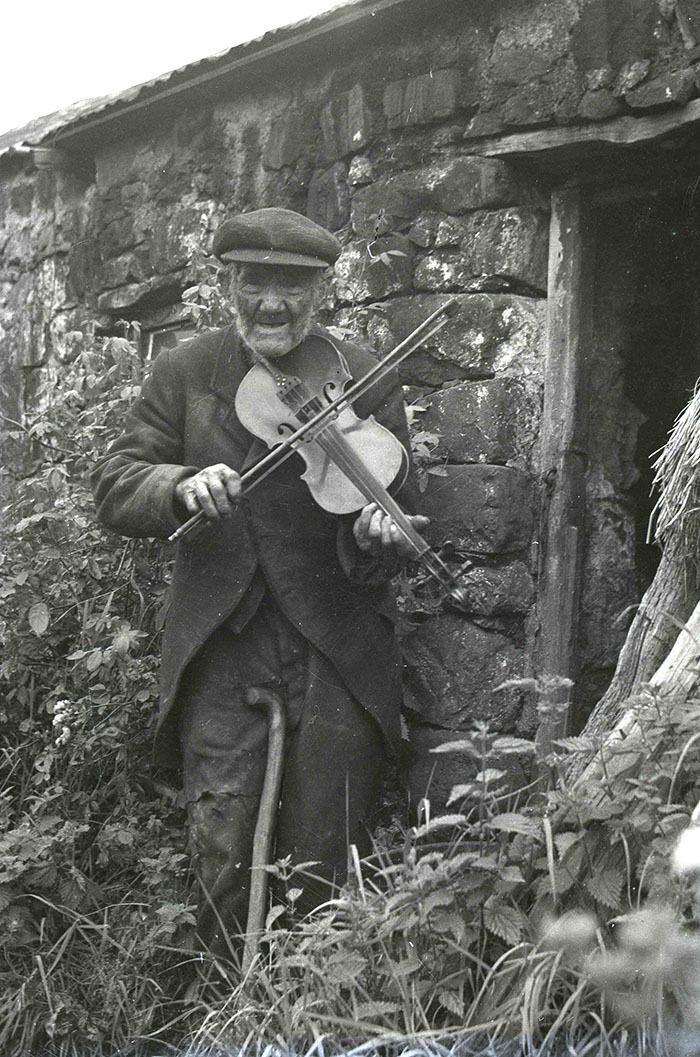 In 1911 Tom was aged 68, a thatcher and lived with his wife Eliza who was 45. They had only been married for 4 years. Twenty five years later, Sam wrote a newspaper article about Tom:
It is pleasant to be remembered after thirty years by those who have no blood ties with you but whose only bond is genuine affection. A well to do farmer from a hilly district told me the other day that Tom Black, aged 93, wanted to see me again. I remembered him clearly in his one-bedroomed house a generation ago when I took him his pension book. He wore a rabbit skin cap and trousers glazed with age… Tom's home is more a man's nest than a house. On the ashes which he throws out the front door a precarious patch of potatoes grows… In his drab cottage with no aesthetic furnishings there is one article that is kept with loving care – his fiddle.
On the occasion of this visit, Tom played Sam several songs which Sam printed in his newspaper article about Tom. Sam marvelled at Tom's memory for the tune and the lyrics, aged 93.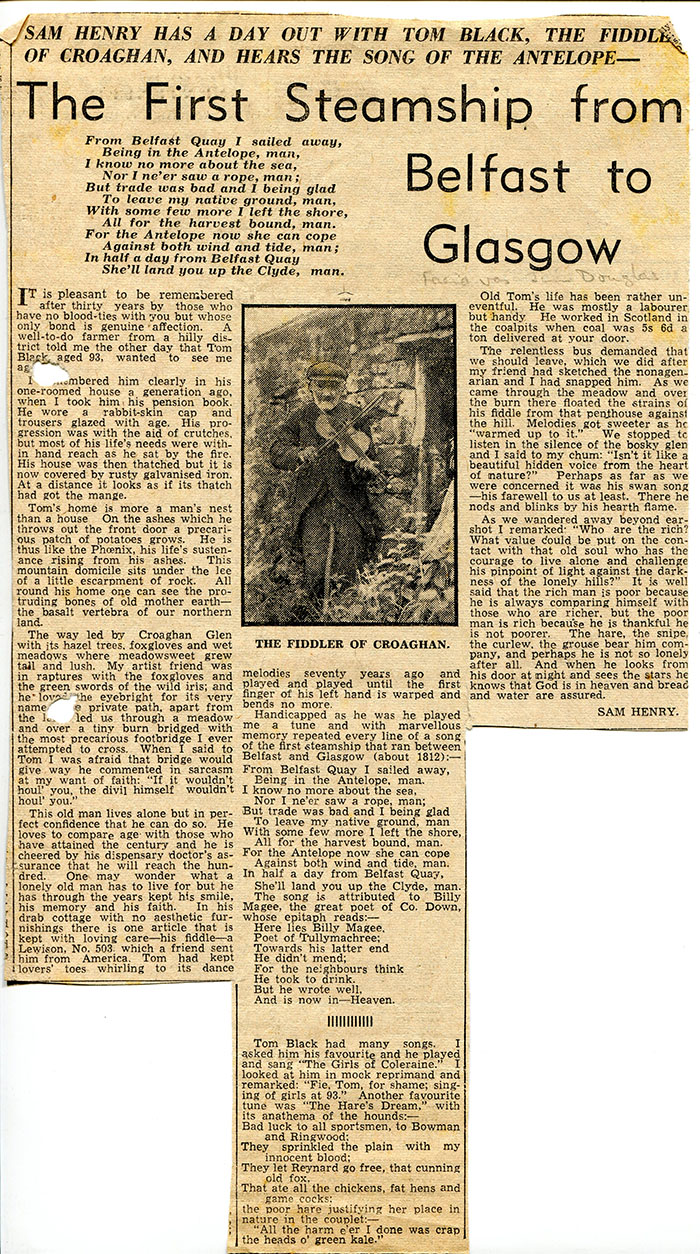 George Shiels, Ballybrakes, Ballymoney (1881 – 1949)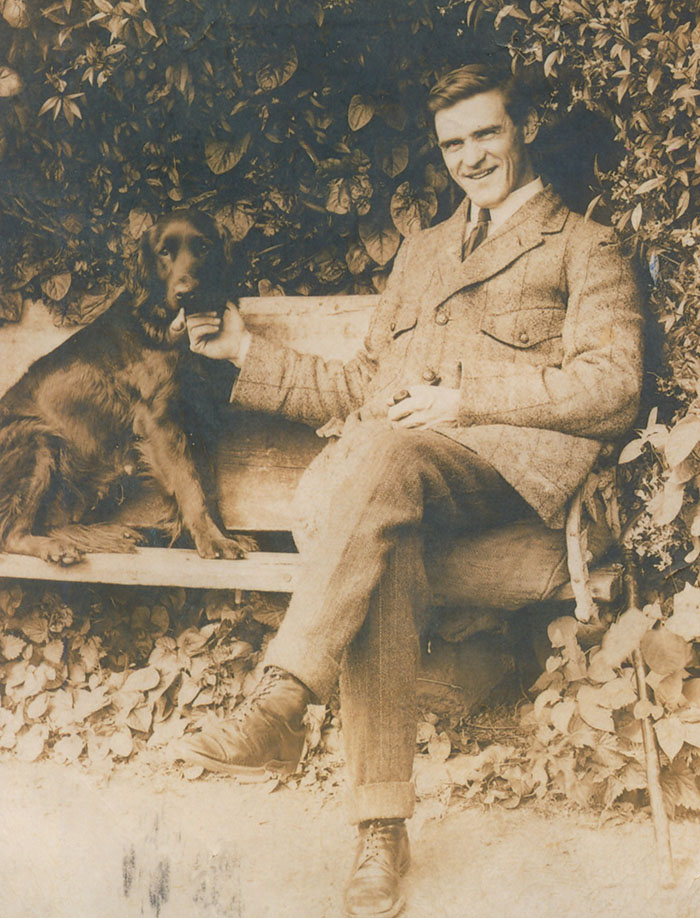 George Shiels is best known as a dramatist whose plays were a success both in his native Ulster and at the Abbey Theatre in Dublin. His most famous plays are The Rugged Path and The Passing Day.
He emigrated to America in 1903. He was severely injured while working on the Canadian Pacific Railroad which resulted in him spending the rest of his life in a wheelchair. Returning to Ballymoney after this incident, Shiels began writing short stories for local newspapers. Following the success of these he started to write plays; many of these early works were written in a room above his travel business in Ballymoney.
Sam and George became acquainted after Sam reviewed one of his plays in 1926. From the correspondence within the collection it is clear that they developed and maintained a firm friendship.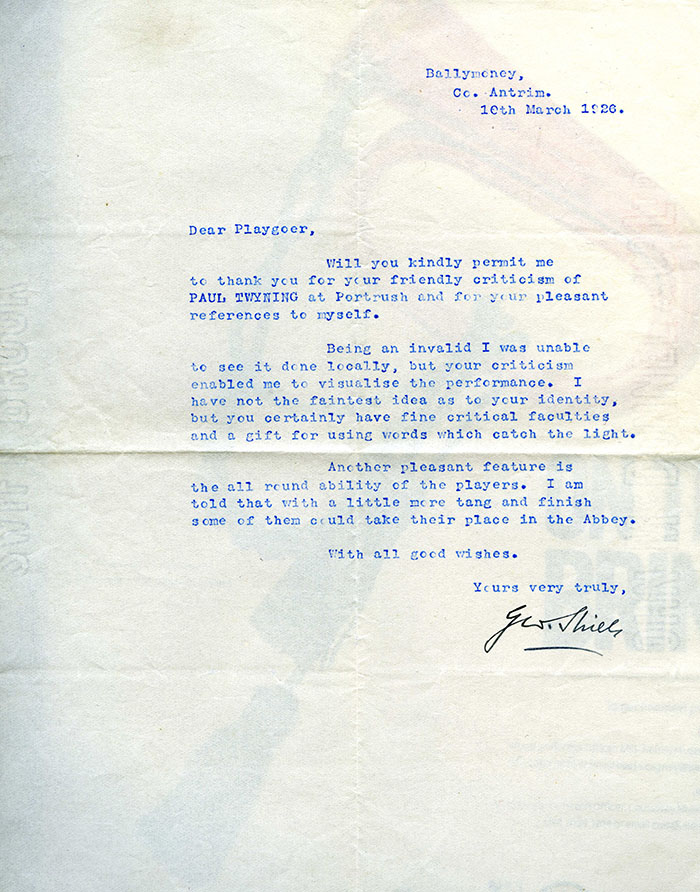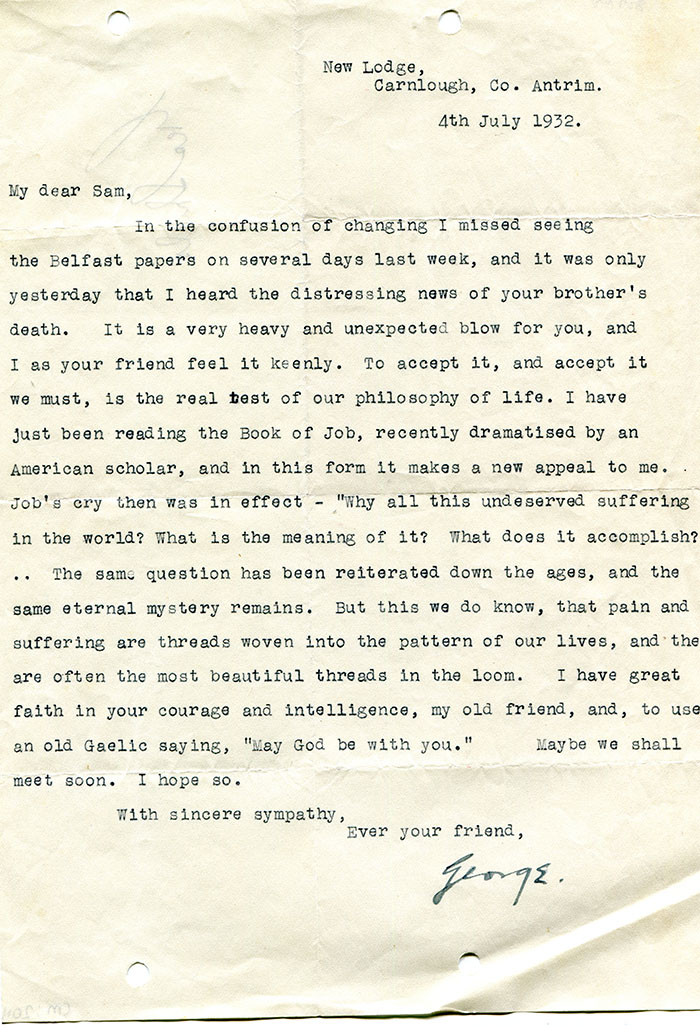 Find Out More
To view more of Sam Henry's Collection, Click here