Salmon.
An incredible creature.
An incredible prize.
Big, tasty, easy to catch (in the right place, at the right time). The salmon fishery was a key industry, a way of life and a public attraction for many centuries.
Now it is gone.
History
The salmon fishery of the Bann1 was a jackpot for the first explorers of Ireland; a foundation stone of Coleraine when a Medieval castle was built to 'oversee the fishing' and the King's gift to the London Companies to persuade them to build a new town on the Bann. The salmon is a fish rich in mythology2, featuring in the stories of St Patrick and Finn MacCool.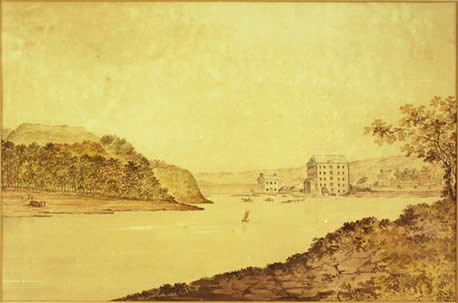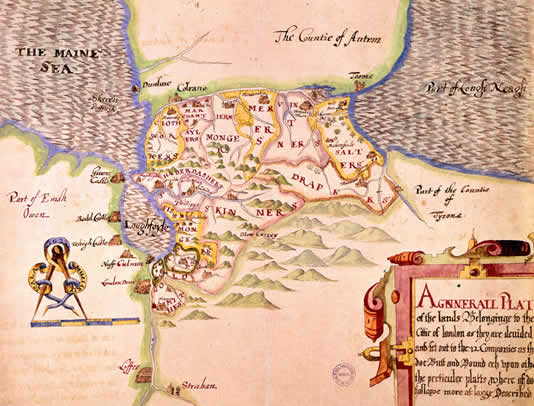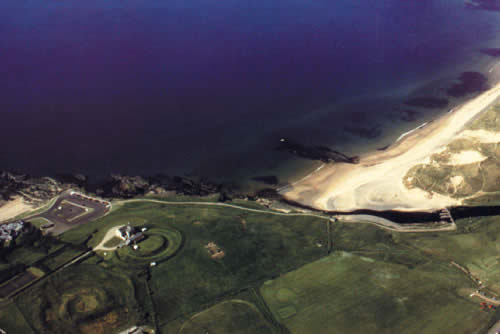 The Prize
The fish were an asset to be squabbled over by earls and chieftains. Yet, Nature's free bounty was a dangerous temptation for a common man. Federo O'Cahan's head was sent to Dublin for being 'a nuisance to the fishing'.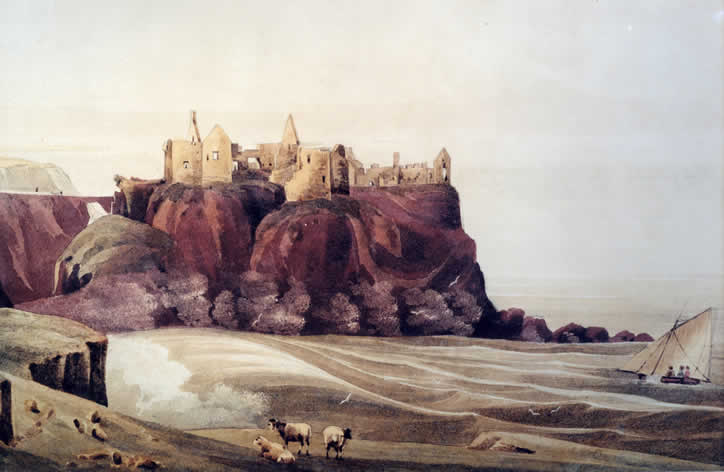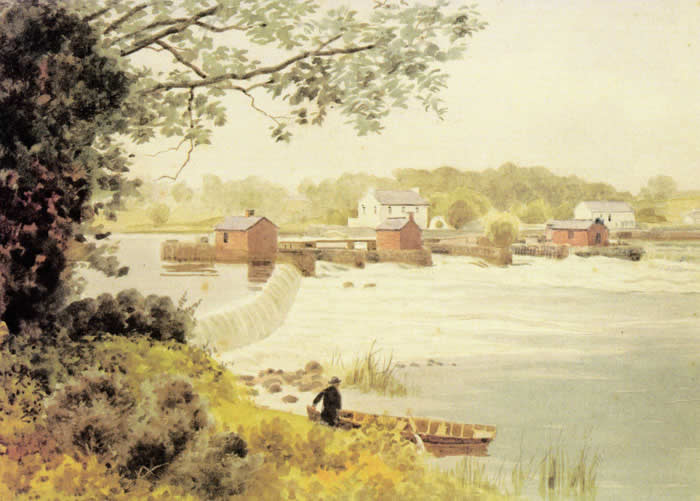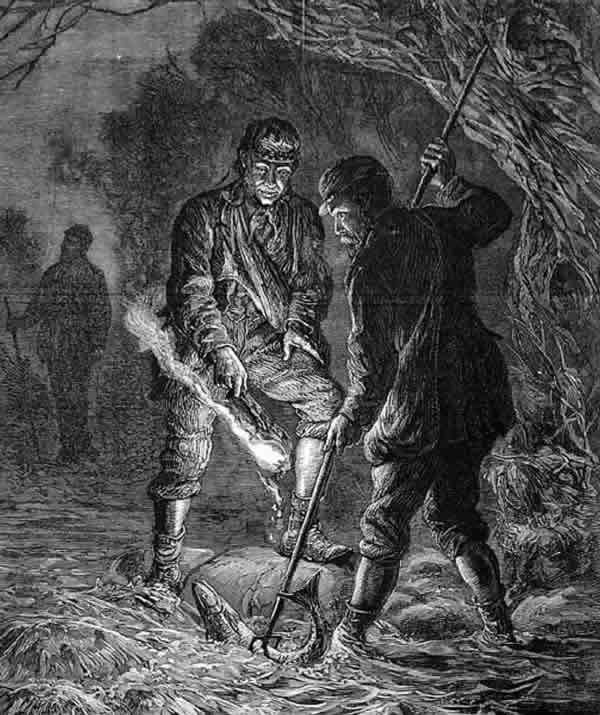 Fishing
The river nets produced the biggest catches, while all along the coast men, their brothers and sons worked nets in the Atlantic swells. Draft nets5, gill nets6 and the new technology of the bag net7, in the 1830s, worked from rocky promontories. For those without a station, it was the open sea. Drifting8 on the ocean with a thousand yards of net, in the night — the darker and stormier the better.
The summer grilse9 made the fishing worthwhile, made a living possible, balanced the dangerous winter long lining10.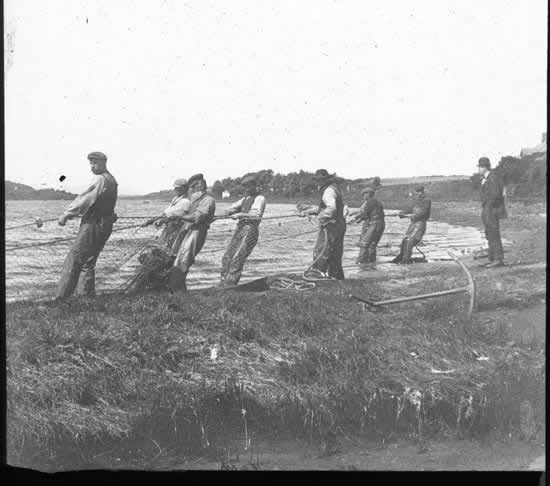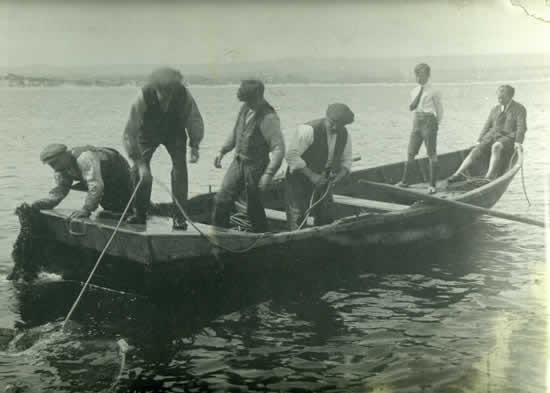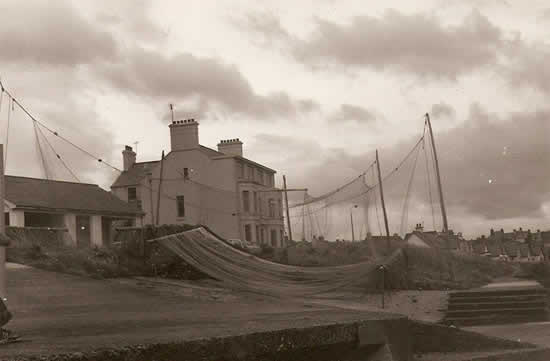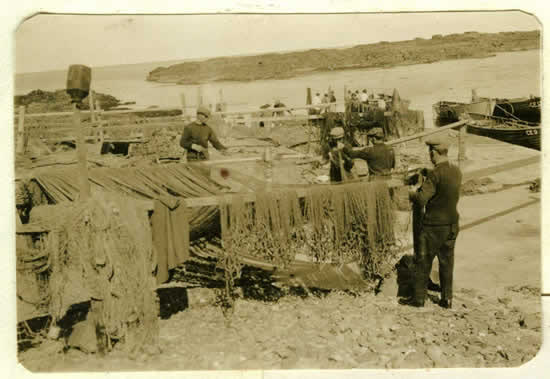 Spectators
For generations, locals and visitors alike sought the quay when the catch was coming in. The big silver fish. What a sight to see!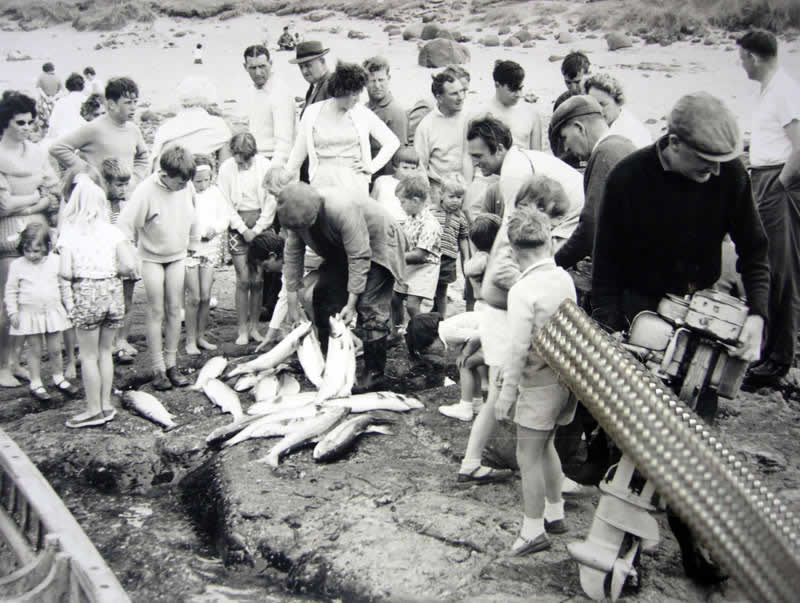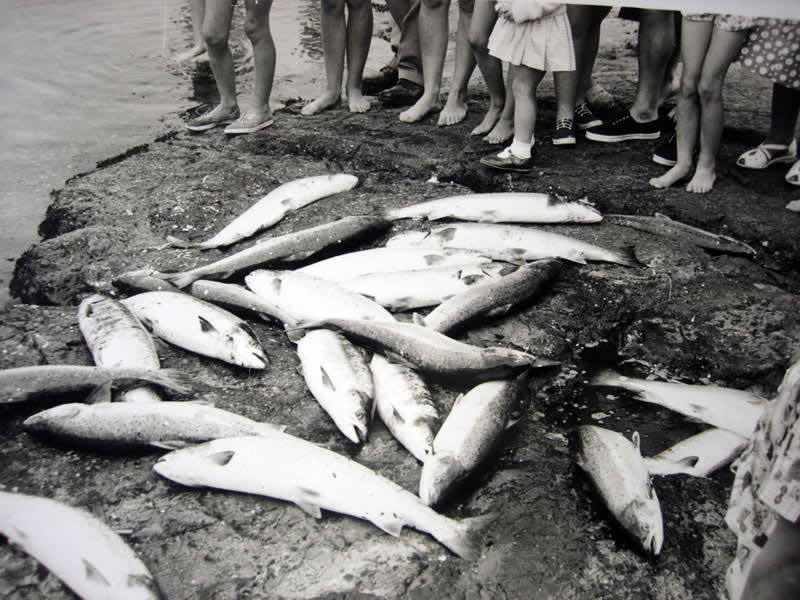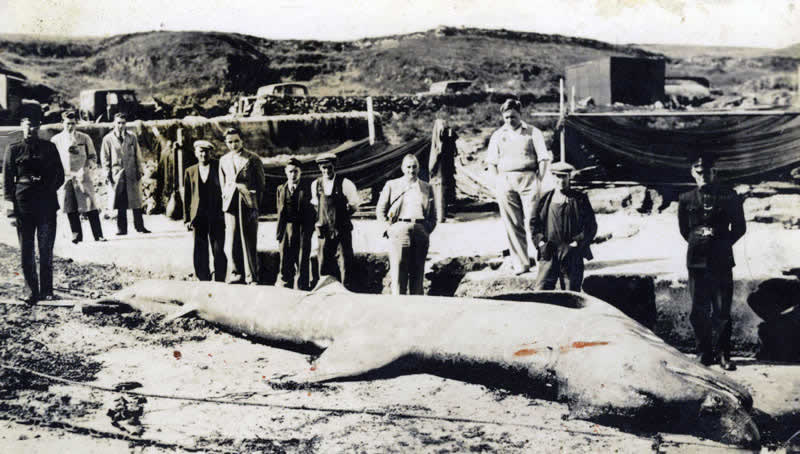 Decline
Now with declining stocks, the undeniable economic fact that anglers13 pay to catch one or nothing, competition from farmed fish, the licenses have been surrendered14 for cash. The nets were burned. This great industry is gone.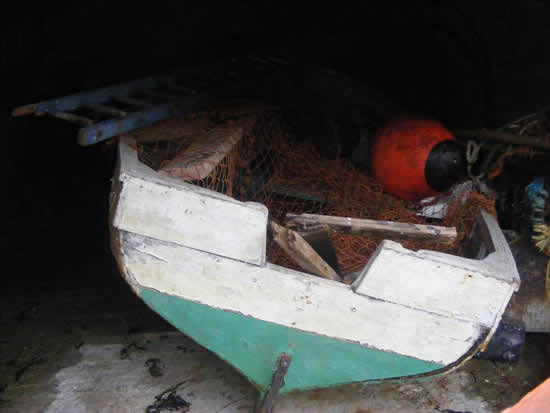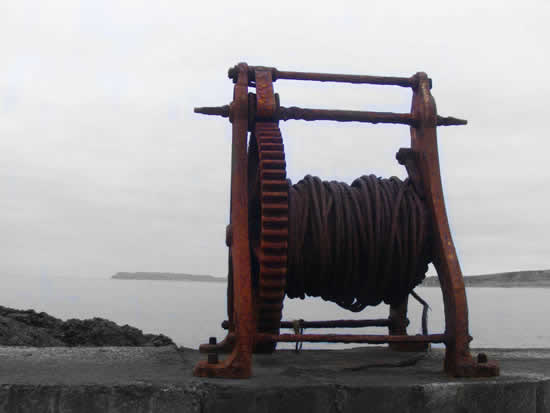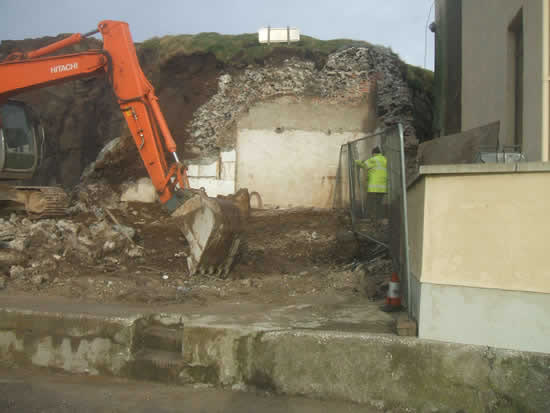 Slipways, harbours, net-greens and ice-houses are still there, but under increasing threat. The fishermen are still there, but growing fewer in number. The stories are still there.
Now may be the last chance to see the skeleton of this once thriving creature, the Causeway Salmon Fishery.
Commercial salmon fishing has virtually disappeared from Ireland and seems unlikely to return…
If we don't observe and record the salmon story now, it will be lost forever.
Find Out More
1↑The River Bann

Much of the Lower Bann is slow flowing and not suitable for salmon angling. Natural features at the Cutts, Carnroe, Movanagher and Portna formed natural waterfalls creating faster flows of oxygenated water which attract the fish. These locations have been significantly altered over the centuries, but their attraction to salmon and salmon anglers remains. Carnroe has been described as, 'the best hundred yards of grilse fishing in Europe.'

The Lower Bann is managed by Bann Systems on behalf of the Honourable The Irish Society.

2↑Mythology

The salmon is a fish which features strongly in the mythology of Ireland. Saint Patrick gave it its famed ability to leap and without it Finn MacCool would not have gained his great wisdom.

St Patrick's Trail www.nitb.com

The Giant's Causeway www.nationaltrust.org.uk/main/w-giantscauseway

5↑How does a draft net work?

Draft netting is a form of seine netting. The object is to encircle a number of fish with a sheet of net and then draw the end of the net to the shore. The circle is then drawn tighter and tighter until the fish are brought ashore.

A typical draft net coble has a very shallow draft, to enable it to land or launch from the shore.

The net is then paid out of the boat as the boat rows out to the full extent of the net. This is called 'shooting' the net. The net is held in place, in a semi circle, by the push of the tide.

To close the net the 'land rope', which is attached to the far end of the net is used to winch the end ashore creating a circle. The circle is closed further as the two ends of the net are drawn on to the shore

The Cranagh in the 1970s. Copyright J Hamilton.

The middle of the net is the last part to come ashore. This is called the 'bosom' of the net. The net here is baggier than the rest of the net, trapping the fish and allowing them to be pulled ashore.

7↑What is a bag net?

Bag nets are an effective method of fishing from rocky shores. They were introduced in the nineteenth century.

A bag net is an elaborate trap constructed from panels of net. It is held in place by a series of anchors.

© John Hamilton

The 'bag' consists of three chambers. The entrance to each chamber becomes progressively smaller.

Fish are guided into the 'bag' by the 'leader', which is a simple barrier of net stretching from the shore.

Once inside the 'bag' fish will circle in the chambers trying to find a way ahead. It is against their instincts to turn and retrace their path.

8↑How does a drift net work?

Drift nets were fished on the open sea from Drondhiems. The net were 1,000 yards long. They were shot in a long line, hanging like a curtain, hopefully across the path of the incoming fish.

Hopefully, the fish, in their relentless push towards the river, push their heads through a mesh in the net. If they try to withdraw the twine of the net will catch in their gill slits (hence the term gill net) and leave the fish snared.

The nets were traditionally made of tarred cotton and were all too easy for the fish to see and avoid. This forced the fishermen to work their drift nets during the hours of darkness. The stormier the sea, the more turbulent the water, the less easy the net was to sea and, hence, the better fishing.

Drift Nets drying at Dunseverick. Courtesy of the Gault family.

The nets drying across two long poles were a familiar sight at each of the Harbours. Tourists watched the fishermen loading the nets into the boat each evening. Not so many were around to see them return at five o'clock in the morning.

9↑What is a grilse?

Most of the fish caught in the North Coast Salmon Fishery are not salmon! To any one in the industry they would simply be known as "Fish!" Other species had names. It would be perfectly reasonable to say, "I caught five trout, but not a single Fish."

Members of the species Salmo salar have a succession of names reflecting what point they are in their complicated life style. They hatch as yolk fry, become alevins, then parr. They remain a parr in fresh water for anything between one and five years. They undergo a series of physiological changes to prepare for life at sea and smolts.

A catch of grilse and a salmon from the River Roe. Courtesy of Conly George.

Their journey to sea takes them to rich feeding their growth rate is phenomenal. If they return having spent one winter at sea they are called a grilse. The vast majority of fish caught on the Causeway Coast are grilse.

Fish which stay at sea for two, three, four, even five years before returning finally earn the name salmon.

10↑What is a long lining?

Long lining was a method of catching species like cod and haddock. Long lines with a thousand hooks or more were baited with baits such as 'buckies' (whelks) and lowered to the sea bed.

This fishery was carried out in the winter months by the same dronthiem fishermen who were engaged in the more lucrative drift netting for grilse in the summer months.

Cod at Dunseverick. Courtesy of the Gault family.

11↑What is a Dronthiem?

The traditional open sea fishing boat of the North Coast was the Dronthiem. This was developed from the Norway Yawl and definitely has a bit of Viking in its ancestry.

It was doubled ended (pointy at both ends) and clinker built (made from overlapping wooden planks). Larger versions were powered by one or two sails. Smaller ones relied on oars.

Postcard of Portstewart Harbour. Courtesy of Coleraine Museum.

In the mid twentieth century most dronthiems were equipped with in-board diesel engines. From the end of the sixties, they were gradually replaced with vessels in more modern materials.

12↑What other fish were caught?

The huge, though harmless, basking shark was a rare, accidental catch, unwelcome because it destroyed the net. The salmon nets also caught valuable sea trout and worthless mullet.

In addition to winter long lining, the Causeway coast fishermen were also engaged in using creels to catch crab and lobster and inshore trawling for species like plaice.

Lobster creels at Dunseverick. Courtesy of the Gault family.

13↑What is Angling?

Catching salmon with rod and line has a long history and a rich heritage. It was a part of country life, providing a valuable treat for the table, while the best of it was preserved as a gentleman's sport.

Salmon angling continues to be a very popular enterprise, with visiting anglers spending considerable sums on accommodation, tackle and local guides. Declining numbers of fish have seen the growing spread of 'catch and release', whereby all the fish caught are returned alive to the water. Thus the angler has his sport, and pays for it, without affecting the number of fish available for spawning.

Tom Bellas and Jock Smylie on the Clough River by Sam Henry. Copyright the Craig Family.

14↑Why did the fishery close?

Salmon runs have always fluctuated wildly. The sixties and seventies saw some excellent years. Towards the end of the century there was a general perception that stocks were declining.

Salmon angling has long been popular. A very strong argument was made that angling had a hugely greater economic benefit than netting; a visiting angler spends money on rentals, accommodation, guides and tackle. He pays whether or not he catches anything. Anglers increasingly carry out 'catch and release', which means they return their catch alive, creating maximum economic benefit for minimum impact on the fish stock.

Photo courtesy of Bushmills Historical Society.

Dan Cochrane with a River Bush17 fish.

In the 1990s The North Atlantic Salmon Fund, founded by Icelander, Orri Vigfusson, raised money to pay salmon fishermen to hand over their licences. Many Causeway Coast fisheries closed. Other fisheries such as the Foyle nets were closed for a fixed period as recently as 2010.

The market for wild salmon was replaced by salmon from farms, which made the product cheaper and cheaper, making netting non-viable.

15↑What is a coble?

Cobles (pronounced like nobles not nobbles) were the vessels for fishing shore based nets.

A typical draft net coble has a very shallow draft, to enable it to land or launch from the shore. A key feature of the coble is the net platform. This allows the full net to be loaded and shot from the boat.

Cranagh coble. Copyright- J Hamilton.

A bag net requires a more sea worthy coble, with a broader beam to allow working the net in Atlantic swells.

Plan of Carrick-a-Rede coble. Courtesy of the Causeway Maritime Heritage Trust.

16↑The River Bush

The Bush has an excellent reputation as a salmon river, though the greatest majority of fish are caught in the lower reaches.

The River Bush is under a unique management system under the auspices of the Department of Culture and Leisure Northern Ireland.

17↑The River Roe

The River Roe is managed the Roe Anglers. Day tickets can be obtained. A disabled anglers facility is available in the Roe Valley Country Park.

Additional Links