Playful Museums Festival, February 2023
The Playful Museums Festival is an event held every year in February for early years children, involving a number of museums across Northern Ireland, with funding provided by the Northern Ireland Museums Council.
This year, Causeway Coast and Glens Museum Services took part and involved Ballycastle Museum, Ballymoney Museum, Coleraine Museum and Limavady & Green Lane Museum.
The 2023 project 'Seek, Find, Speak, Create' provided activities for children aged 3-4 years who explored nature's treasures in an outdoor trail at a 'green' space near them, followed by an indoor arts and crafts workshop.
The sessions took place in the following locations:
Anderson Park, Coleraine
Ballycastle Forest Park
Megaw Park, Ballymoney
Roe Valley Country Park, Limavady
The activities were facilitated by The Hares Corner Cooperative, and, with help from Sammy the Squirrel, encouraged children to look for the signs of nature, using all of their senses.
The children listened for birdsong, sang their own bird orchestra, looked for the emerging colours of spring and enjoyed smelling flowers. They also took part in arts and crafts workshops based around objects from museum collections including a weather board from Killyrammer Primary School and songs from the Sam Henry Collection.
The artwork created by the children will go on display in Ballymoney Museum from April 25th – 29th, with free entry for all those who would like to see the young artists' wonderful creativity.
The project was delivered with support from the NIMC Playful Museums Festival Grant funding.
On 7th February, children explored Roe Valley Country Park followed by an arts and crafts workshop at Green Lane Museum.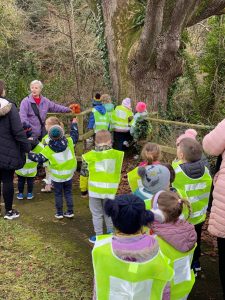 Hearing all about the old oak tree in the country park
Painting daffodils
…a fun and educational morning…Extra special to get to enjoy being outdoors."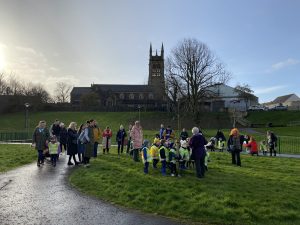 Practicing birdsong at Anderson Park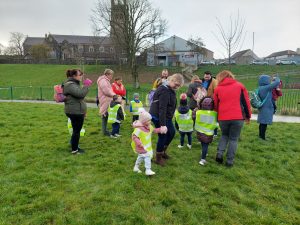 Dancing to 'In and Out the Dusty Blue Bells' song from the Sam Henry Collection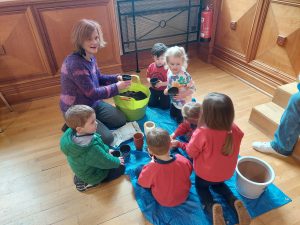 Each child got to plant their own seed to take care of at home
…today was a most enjoyable morning. All activities were fun and educational – can't wait to do more!"
On 21st February, children explored Megaw Park followed by an arts and craft workshop in Ballymoney Town Hall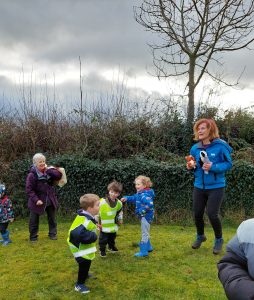 Getting our wriggles out with Sammy the Squirrel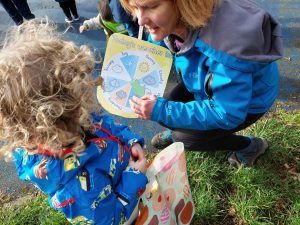 Using a weather chart based on the Killyrammer Primary School weatherboard in Ballymoney Museum's collection.
…lovely morning exploring our local area and getting creative."
On 23rd February, children explored Ballycastle Forest Park, followed by an arts and crafts workshop in Ramoan Parish Church.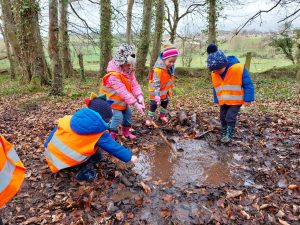 'Fishing' for leaves in muddy puddles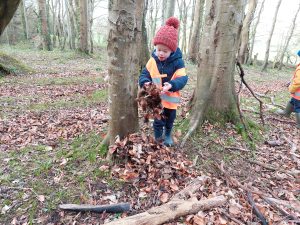 Building hedgehog houses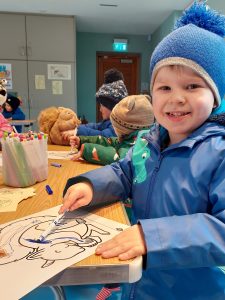 Colouring in at Ballycastle
Excellent day…children really enjoyed [the] visit."