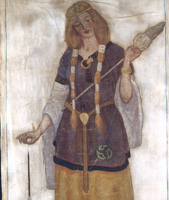 Phase I
The Images of Ireland exhibition first toured in 2010. It was revived and reinvigorated during this phase of Cultural Fusions. The theme is 'identity' – how ideas of Irish, British, Gaelic and Orange identity evolved over the period commonly known as the 'Celtic Revival'.
From the mid-nineteenth century, in Ireland, as in many places across Europe, there was a growing interest in cultural identity.  This was linked to Romantic Nationalism that celebrated national historic and artistic traditions.
At the same time local identities were being defined in political terms as a result of the Home Rule crisis. The symbols and iconography used to define Irish and British, Unionist and Nationalist, Protestant and Catholic identity became more prescribed and directly in opposition to each other. We are still living with the legacy of this cultural and political division today.
Project Aims
To enable communities to understand the development of their own cultural identity so that they will build the confidence to engage in dialogue with other communities
To highlight that the search for identity across this region over one hundred years ago during the Celtic Revival was very similar  to contemporary efforts to shape,  define and understand cultural identity in contemporary times across Northern Ireland
To discuss the impact of political contexts on the building of nationalism, both Unionist and Nationalist across the region  To highlight and discuss the complexity of both identities and role the Arts have played in the formation of these then as in contemporary times.
Phase II worked with local secondary schools exploring their responses to issues of identity as presented through key objects and emblems in our collections.  This project used the Images of Ireland exhibition and the Emblems of Ireland booklet to inform heritage based workshops as a first stage.  The students then worked with artists and used different creative media to capture and share those responses.  Their work was then prepared for display alongside they key imagery they responded to.
Project Aims
To use the Images of Ireland: Politics of Identity 1887-1916 exhibition (delivered under Cultural Fusions phase I) to support students to explore key events and milestones that shaped identity across the North East during this period
To understand how this period still influences community, cultural and political identity in the present and to enable dialogue around this
To encourage the examination of personal identity and its development in relation to local and global relationships and influences
To develop print and ceramic artworks for the Emblems of Ireland exhibition which will harness workshop learning and exploration
To use the touring Emblems of Ireland exhibition as a resource for further engagement on identity issues with students and community groups.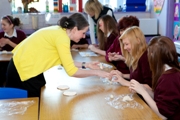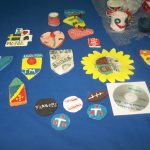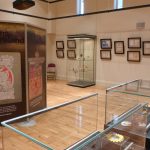 Project Results
Delivery of a programme of Images of Ireland interpretative exhibition tours with students supporting them to identify key political and cultural mile stones which shaped identity locally in the past
Delivery of Emblems of Ireland workshops with students drawing on emblems and icons of identity encountered in Images of Ireland exhibition
Delivery of ceramic workshop programme with students exploring personal and community identity in the present
Delivery of the Emblems of Ireland exhibition showcasing artworks exploring and expressing student identity
Delivery of the Emblems of Ireland exhibition as a simple resource to encourage members of the general public and groups to consider diversity of identity in their locality