Hugh Thomson was born in Kingsgate Street, Coleraine in 1860 and became one of the most distinguished artists and illustrators of the Victorian era. He illustrated books by some of the greatest novelists of the 19th and early 20th centuries, including Charles Dickens, Jane Austen, George Eliot, W.M. Thackeray and J.M. Barrie.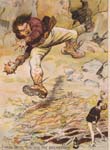 When his mother died and his father remarried Maria Lennox, the family moved to Manor House, Kilrea. He attended Coleraine Model School, often staying at his aunt's house, 'Breezemount'. Aged 14, he started work at Gribbon's linen factory on the Strand Road. Recognising his talent, H.A. Gribbon brought him to the attention of Marcus Ward & Co., Belfast, the leading printers and publishers. He trained there under the guidance of John Vinycomb M.R.I.A, who appreciated and nurtured Thomson's talent.
An ambitious artist, Thomson set off for London in 1883, travelling with another artist from Coleraine, the painter A.D. McCormick. Working with the publisher Macmillan & Co., he won recognition at home and abroad for his work. A fine watercolourist, Hugh Thompson is considered to be amongst the three top book illustrators of the time – the other two being Arthur Rackman and Edmund Dulac.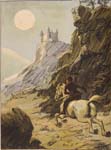 Coleraine Museum houses the most representative collection of Hugh Thomson works in the world, including over 600 original watercolours and pen and ink drawings and 200 illustrated books as well as photographs, letters and printers proofs.
In 2005 a unique opportunity arose to acquire a substantial and comprehensive collection from J&J Gamble, which had been acquired from the Thomson family 30 years previously. Thanks to the support of the Heritage Lottery Fund, National Art Collections Fund and Northern Ireland Museums Council, Coleraine Museum has been able to preserve and make accessible these wonderful works of art for future generations, and has continued to build the collection through new acquisitions.
'The universal opinion seems to be that in his particular line… he stands absolutely unrivalled'
John Vinycomb
Award winning designer/engraver
Founder of the Belfast Arts Society and Ulster Arts Club
'A greater wonder still is the range of Hugh Thomson's observation – of men and women of every rank in life, from the highest loveliness and breeding to the lowest, most abysmal depravity, reflecting on their faces with a mere touch of the pen for the most delicate variation of the most subtle expressions.'
 M.H. Speilman & Walter Jerrold
'Hugh Thomson: His Art, His Letter, His Humour & His Charm', 1931