The History of Coleraine Battery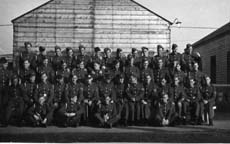 6th Light Anti Aircraft (Royal Artillery) Supplementary Reserve
When Britain declared war on German in 1939, the army feared that the main threat may come from German aircraft. Under pressure from German forces the army started to recruit supplementary reserves throughout Great Britain and Ireland, many of which were Anti Aircraft units. The 6th Light AA (RA) SR Coleraine Battery was one of these. There was no conscription in Northern Ireland so these reserves were volunteers. Volunteers came from Coleraine, Portrush, Portstewart, Castlerock, Bushmills, Maghera, Kilrea and Upperlands areas.
The Battery was mobilised on 2nd September 1939 and went on to fight in many theatres of war until they stood down in October 1945. During the war 318 personnel passed through the Battery, fourteen of these honourable men lost their lives.
Coleraine Battery deployment WW2
September 1939 – Coleraine
November 1939 – Training in Scotland
August 1940 – Anti aircraft training in England
September 1940 – en route to Egypt
November 40 –  July 41 Egypt
August 41 -43 – Western Desert Campaign, North Africa
June 1944 – 1945 – Normandy Invasion and the liberation of Europe
The Western Desert

The Western Desert Campaign was fought across Egypt and Libya. The Battery split into three groups for this complex and difficult campaign. Their missions included mobile patrols, AA and ground fire support to special forces, army headquarter protection and defence of railways, trains, road, airfields and harbours.
Europe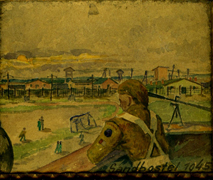 The Coleraine Battery went over to Normandy 10 days after D-Day. This phase of the Battery operation carried on without relief until the war ended in Europe in May 1945. Theatres of war included, France, Belgium, Holland and Germany. Camaraderie
One of the defining features of the Coleraine Battery is the sense of camaraderie that existed between its members. The battery formed an old comrades association which continued to meet several times a year until  Friday 7 June 1996 when they held their 50thand Final Anniversary Dinner.  Andy McGowan, the association secretary called for the 50thand final toast to 'The Battery'. Before he did this, Andy reminded everyone of why they liked to be known as 'The Battery'. It came, he said from 57 years of  comradeship and a great pride in their country, their unit and each other.