'Let Me Introduce You… A History of Dance Halls in the Causeway Area' exhibition was a project developed as part of the Peace IV Understanding Our Area programme, funded by the European Union's PEACE IV Programme, managed by the Special EU Programmes Body.
The dance halls exhibition seeks to remember these once popular establishments through the Bobby Platt Collection, generously on loan to Museum Services. Bobby organised top showband performances during the 1950s and 60s at venues in Coleraine, Portstewart and Limavady. The Chronicle and Constitution archives feature images from the period, along with local memories of the dance halls which were recorded as part of the community engagement programme element of the project.
View the exhibition at Coleraine Museum in Coleraine Town Hall, Tuesday-Saturday, 11am-4pm, until Saturday 3rd December 2022.

Advertisement from the Coleraine Chronicle, 14th September 1963 for a dance at Limavady Agricultural Hall. Ballymoney Museum Collection.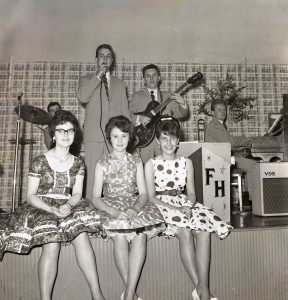 Fred Hanna band at the Stand Ballroom, July 1963. Courtesy of the Chronicle & Constitution Archives.
You can view a map of the venues HERE and exhibition panels HERE