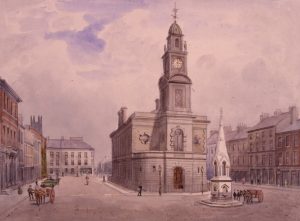 Designed by Thomas Turner, the Town Hall was built in 1859 by McLaughlin & Harvey for £4,147 (over £7m today), with The Honourable the Irish Society contributing £2,500. It replaced the Market House built in 1743 by The Honourable the Irish Society. Outside in the Market Square (The Diamond) weekly markets, hiring fairs and other public events occurred. In 1829 the trading of goods and animals transferred to the new Market Yard.
In 1859 the Official Opening of Coleraine Town Hall was postponed because of the 1859 Ulster Revival. The local Presbyterian ministers at the time presented the Revival Bible to the Town Commissioners, which remains one of the few surviving objects from this influential religious movement.
Built in the age of the horse, the Town Hall saw the first motor car in Coleraine on the 19th July 1900.
In 1902 a new Stairway and doorway at the eastern end increased available space. The western door was permanently closed. Inside the Town Hall is a superb stained glass window commemorating The Honourable the Irish Society1613 -1913. Designed and manufactured by Campbell Bros Belfast it features Irish Society School, Salmon Leap, Old Parish Church and the old Market House.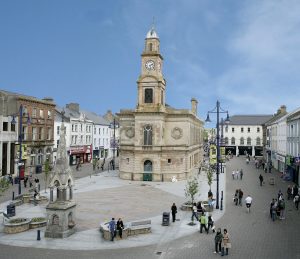 In 1992 the Town centre was seriously damaged by a massive IRA bomb. The Town Hall roof was lifted by the force, windows and doors were blown out, yet the stained glass window survived.
In 2003 a commemorative stained glass window for the Queen's Golden Jubilee was commissioned. Other works of art include marble busts by Merret of London of King Edward VII and Queen Alexandra, presented by The Honourable the Irish Society to the Corporation of Coleraine.
Today the Town Hall is booked by more than 40 different groups, with over 30,000 people each year attending a wide range of community and civic activities. The Town Hall also supports the monthly Coleraine Specialty Market and festival events in the Diamond. Coleraine Town Hall is Coleraine Museum's Accredited exhibition venue and since 2008 houses the Hugh Thomson Study Room for the work of this prestigious and influential Victorian book illustrator born in Coleraine 1860.